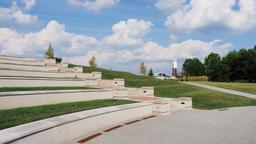 Carmel car rentals
Search hundreds of travel sites at once for car rental deals in Carmel
Carmel, IN, United States
Carmel car rental Information
| | |
| --- | --- |
| Pick-up location | Carmel |
| Rental locations | 4 |
Carmel car rental reviews and directory
Enterprise

10.0 Excellent (1 review)
╳
Enterprise reviews
Car rental locations
Enterprise
Locations in Carmel
931 N Range Line Rd
+1 317 844 3030
| | |
| --- | --- |
| Monday | 07:30 - 18:00 |
| Tuesday | 07:30 - 18:00 |
| Wednesday | 07:30 - 18:00 |
| Thursday | 07:30 - 18:00 |
| Friday | 07:30 - 18:00 |
| Saturday | 09:00 - 12:00 |
| Sunday | 10:00 - 15:00 |
10.0 Excellent
23 Sep. 2016
Pros:
There is not much to say. They were courteous and professional.
National

9.9 Excellent (3 reviews)
╳
National reviews
Car rental locations
National
Locations in Carmel
1748 E 116th St
+1 317 844 9011
| | |
| --- | --- |
| Monday | 07:30 - 18:00 |
| Tuesday | 07:30 - 18:00 |
| Wednesday | 07:30 - 18:00 |
| Thursday | 07:30 - 18:00 |
| Friday | 07:30 - 18:00 |
| Saturday | 09:00 - 12:00 |
| Sunday | 12:00 - 16:00 |
10.0 Excellent
23 Aug. 2018
Pros:
Easy to pick up and drop off. Excellent service. Great value for the cost!
10.0 Excellent
1 Jul. 2019
Pros:
I was in and out in about 5 minutes each time. Great value. I will use them again.
Cons:
Nothing I can think of at the moment.
9.6 Excellent
7 Oct. 2019
Pros:
Helpful and friendly staff, quick in-and-out, great balue
Cons:
Because the strip mall where National is located is busy, you have to be a little careful where you park when returning the vehicle. This is VERY clearly marked and the staff makes sure you know about it....and this is really the only thing I can think of that is even slightly negative.
Hertz

╳
Hertz reviews
Car rental locations
Hertz
Locations in Carmel
1441 South Guilford Road
+1 317 587 1640
| | |
| --- | --- |
| Monday | 07:30 - 18:00 |
| Tuesday | 08:00 - 17:30 |
| Wednesday | 08:00 - 17:30 |
| Thursday | 08:00 - 17:30 |
| Friday | 08:00 - 18:00 |
| Saturday | 09:00 - 12:00 |
| Sunday | |
8.0 Excellent
10 Jan. 2017
Good car value and experience
Pros:
Car got great gas mileage and very comfortable. The car came with a GPS which was very helpful. Top notch service and corrected the things that went wrong. Transaction went very smooth.
Cons:
The initial car I rented from Hertz had tires in the front that were low on tread. I had to go to the airport to pick up another vehicle. It was a time waster, but I got the car I originally wanted (Corolla) and not the Elantra that I was given. Also when I was going through some bad snow, I had to put in almost a gallon of washer fluid because the fluid level was so low initially.
10.0 Excellent
21 Jun. 2017
Very satisfied
Pros:
Friendly staff, easy transaction. They even called me to let me know I accidentally left something in the car.
2.0 Mediocre
27 Jul. 2017
Cons:
The day I was scheduled to pick up The rental I canceled and the guy said ok no problem and they still charged my credit card.
Cons:
Vehicle had not been washed. Rep said he didn't have time and it might rain anyway. Interior was not cleaned well. Not Hertz worthy.
Disappointed
Pros:
The car didn't break down.
Cons:
1) The desk attendant was unhelpful. He only had answers for things that related to him up-selling me and was unwilling to make any suggestions otherwise. 2) The car was filthy. They made a big deal about it coming back from the car wash, but there were wood chips scattered all throughout the back, grease smeared into the seats, filth in the drink holders, and the car smelled like an ashtray. We had to air it out overnight and cover the seats with blankets for our kids to ride. BTW- we took pictures to prove we weren't exaggerating this. 3) The car had one working power outlet. There were several throughout the car, but only one was able to provide anything. We needed it to keep our phone alive for directions on a 14 hour drive, so nothing else was able to run/be charged. 4) No one at Hertz could help us. The desk attendant couldn't be bothered to leave his seat to do a walk-around. When we got the car home and saw how bad it truly was, I spent an hour on the phone trying to find someone at Hertz who could make this right. I kept getting forwarded to people who were "in the wrong department for this" and then sent on again. I gave up after being forwarded for the fifth time. The only time I ever got someone to acknowledge they would take my complaint was after the car had been returned. 5) This wasn't even the car I asked for. I called to confirm this rental and was told it would be a Chrysler TnC. I got a Kia. When I complained about this to the attendant, his only response was, "well, my sister got one and she loves it." After driving this car 1750 miles, I can tell you the only thing it has in common with a Chrysler TnC is they both have wheels. This van handled poorly and ran loud, and it required constant fill-ups. The mileage was poor at best, and had I known I would be a victim of bait-and switch, I never would have gone through Hertz in the first place. I rent a lot. I'm a sales rep and that means lots of flying and driving. I normally use Enterprise, and as so-so as they are, I've never had this level of poor customer service with them.
Cons:
I never received my prepaid car because they gave it to another customer prior to me getting there. This is the worst experience I have ever had in any service or retail transaction. After spending 3 hours and 26 minutes on the phone with both Hertz and Kayak
Cons:
Car was not ready at pickup time
Sunnycars

Sunnycars
Locations in Carmel
11 travellers who rented a car in Carmel gave the car agency they used an average rating of 6.8
Car rental locations in or near Carmel
When to book a rental car in Carmel
Average daily price per month
Rental car prices as pick-up date approaches
Top tips for renting a car in Carmel
Book your rental car in Carmel at least 1 day before your trip in order to get a below-average price
FAQs about renting a car in Carmel