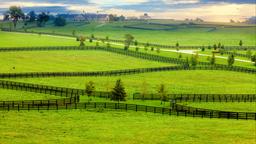 Erlanger car rentals
Search hundreds of travel sites at once for car rental deals in Erlanger
Erlanger, KY, United States
Erlanger car rental Information
| | |
| --- | --- |
| Pick-up location | Erlanger |
| Rental locations | 4 |
| Airport locations | 3 |
Erlanger car rental reviews and directory
Budget

8.2 Excellent (17 reviews)
╳
Budget reviews
Car rental locations
Budget
Locations in Erlanger
3256 Loomis Road
+1 859 767 3132
Monday
00:00 - 01:00
04:30 - 23:59
Tuesday
00:00 - 01:00
04:30 - 23:59
Wednesday
00:00 - 01:00
04:30 - 23:59
Thursday
00:00 - 01:00
04:30 - 23:59
Friday
00:00 - 01:00
04:30 - 23:59
Saturday
00:00 - 01:00
04:30 - 23:59
Sunday
00:00 - 01:00
04:30 - 23:59
Extension needed due to 10 month old son's hospita
Pros:
The lady at the desk was very nice and helpful. When I finally reached someone to extend my rental the man was very courteous and helpful.
Cons:
They did not vacuum or clean the car that well. A quick run through of the features of the car would have helped. The screen for media, phone, maps etc. Was very difficult to figure out. Also the car was E85 fuel and I had no clue until I went to pump gas. I want sure if I could use E87 as there was no E85 to be found anywhere in the small town. I finally got a hold of a buddy who said it was fine to use E87.
8.8 Excellent
1 Nov. 2016
Slow dropoff
Pros:
Picking up the car at the Glenway location was very fast. Not so much at drop off. Check in person disappeared for 10 minutes as I pulled up. Only car to check in at 5 am. Shuttle driver was fast a courteous.
Cons:
Slow return process.
10.0 Excellent
18 Apr. 2017
Cons:
Everything went well. The cars d customer service was excellent
3.6 Mediocre
18 Apr. 2017
Easy return of a smelly car.
Pros:
The return process at Port Columbus was wonderful and easy.
Cons:
The car smelled horribly of cigarette smoke even though there were signs warning of a $250 fine if car comes back smelling of cigarette smoke. The smell never left and was most offensive.
9.2 Excellent
13 Jun. 2017
Cons:
Check in took a little longer than expected due to the car being in the wrong space
"All we have is minivans and pickup trucks"
Pros:
The vehicle we eventually got (Chrysler Pacifica minivan) was clean and comfortable.
Cons:
I reserved a Ford SUV. But upon arrival we were told "the only vehicles we have are a minivan or a pickup truck". Felt very much like 'bait and switch". The agent tried to appease us by giving us a free tank of gas - "just return the vehicle empty". When we did that, we were initially charged $175 (!!) for refueling fee. The agent willingly corrected it, but we wasted 30 minutes getting that fixed.
9.6 Excellent
24 Oct. 2017
Good Experience with CVG Budget
Pros:
Friendly attendants and good pricing. Car was exactly what I reserved and clean
Cons:
Line moved a little slowly for check-in.
10.0 Excellent
20 Mar. 2018
We will definitely rent from Budget again
Pros:
The simplicity of the process from beginning to end. The courtesy of every employee we encountered was excellent
8.4 Excellent
2 Aug. 2018
Nice car at a pretty good price.
Pros:
Clean, nice new car. Worked great for what I needed.
Cons:
Very slow and frustratingly long process to pick up the car in Cincinnati. Need more employees working check in to improve the experience!
9.2 Excellent
11 Sep. 2018
No AFTER HOURS DROPOFFS!!! Are you kidding me!
Cons:
I tried to drop off the vehicle at the designated location which was in a Holiday Inn lobby. The location did not accept after hours drop offs. I had to return the following day to return the car.
Avis

╳
Avis reviews
Car rental locations
Avis
Locations in Erlanger
3256 Loomis Road
+1 859 767 3773
Monday
00:00 - 01:00
04:30 - 23:59
Tuesday
00:00 - 01:00
04:30 - 23:59
Wednesday
00:00 - 01:00
04:30 - 23:59
Thursday
00:00 - 01:00
04:30 - 23:59
Friday
00:00 - 01:00
04:30 - 23:59
Saturday
00:00 - 01:00
04:30 - 23:59
Sunday
00:00 - 01:00
04:30 - 23:59
8.4 Excellent
31 Aug. 2019
Pros:
Car condition and friendly people
Cons:
U should have mention that when I rent the car for 1400 $ it was not insured , the problem is financial and my request I wanted a car to put inside 2 luggage that wasn't true this is why I had to pay much more than my budget
Not the best car rental experience
Pros:
Help in Erlanger was great. Attendant was patient and checked to see prices for different drop off locations in Savannah.
Cons:
Was charged much more than the estimate at drop off. Car felt unstable on the road. Attendants in Savannah were not helpful when I inquired as to why I was charged more.
Friendly staff
Pros:
Very friendly sales associate that assured me that the woman in Des Moines Iowa was in the wrong for adding those insurance options and over charging us without permission.
Cons:
Older gentleman checking gas clearly can not see bc I filled the car up with gas before return and he said I did not.
10.0 Excellent
18 Sep. 2017
Super professional staff!!!!
Pros:
The free upgrade to a bigger due to lack of my category chosen cars!!!
Pros:
The car was clean and comfortable.
Cons:
The car was vandalized and this was made possible because Avis in a Greece disables all car alarms. When we returned the damaged car, which was insured, the charged a fee for paperwork and increased the daily rate because it went from 3 days to 2 days.
9.2 Excellent
22 Aug. 2019
Pros:
I love the ease of the entire experience and location of the desk. The walk to the parking lot is short and convenient. No hard pressure up-sell! No games. No complaints.
Cons:
I reserved a Citroen C2 and was given a VW Polo. Yes, technically the same class but a huge difference in trunk/hatch space, which is what I needed. I get it and understand how it is 'or similar' but in my case, I felt it with my luggage. The VW itself was great and almost brand new.
Dollar

╳
Dollar reviews
Car rental locations
Dollar
Locations in Erlanger
3114 Loomis Rd
+1 866 434 2226
| | |
| --- | --- |
| Monday | 07:00 - 23:00 |
| Tuesday | 07:00 - 23:00 |
| Wednesday | 07:00 - 23:00 |
| Thursday | 07:00 - 23:00 |
| Friday | 07:00 - 23:00 |
| Saturday | 07:00 - 23:00 |
| Sunday | 07:00 - 23:00 |
Cons:
The "Standard" size car we reserved and were offered turned out to be a compact Chevy Cruz. Our bags wouldn't even fit in the trunk. We were forced to pay an upgrade fee to get a vehicle that was not a compact car. At the time of rental, we were told the cost would be $225. When we returned the car, on time - they tried to charge us $298. After a 15 minute ordeal, they reduced the price to $240. Not using Dollar Rental again.
10.0 Excellent
1 Dec. 2016
CVG airport
Pros:
Everything went smoothly. No delays or waiting.
2.0 Mediocre
20 Oct. 2015
Rude
Pros:
Price I was given was not the same at pickup. They wanted to hold an extra hundred dollars untill we returned the car Hidden fees. Walked out and went to national across the street. Got a nicer car and better price. Will never use dollar again
10.0 Excellent
23 Nov. 2015
A bargain
Pros:
I took the special. It met my needs and was a real bargain.
10.0 Excellent
4 Dec. 2015
Pros:
The employees were very helpful and courteous and efficient.
2.0 Mediocre
25 Jan. 2016
No one at the Dollar counter when I arrive.
Cons:
- Arrive late, when I arrive at Cincinnati, I waited for 20 minutes for shuttle. - When shuttle didn't arrive, I attempted to call office, directed to national phone number, and no way to call the Cincinnati office directly that was easily acceptable. - When I attempted to call customer service, only available on weekdays and not helpful from my end on a Friday night. - Had to spend an additional $30 over what I would have normally paid for a rental car in order to leave the airport at a rival. - Will never use Dollar again!
Cons:
Car had a plastic section that rubbed on tire. Plus pick up the computers were down and it had to be done manually. Finally had to wait too long for shuttle after dropoff to airport.
2.0 Mediocre
27 Sep. 2016
Pros:
Waste of money and not at all satisfied
Cons:
Charging lot of money and not even giving a good car
10.0 Excellent
15 Oct. 2016
Fast & Easy
Pros:
Got picked up in a shuttle bus & was taken to the rental office. The car was sitting outside and was ready to go. Drop of was a breeze and we were off to the terminal in the shuttle in no time.
Cons:
I was charged 3x the amount that Kayak reported. Plus Dollar told me that they did not accept the third party insurance that Kayak sold me. I was very frustrated with the false advertisement. The sales rep at pickup was a little pushy.
Hertz

╳
Hertz reviews
Car rental locations
Hertz
Locations in Erlanger
4204 Dixie Highway
+1 859 342 0141
| | |
| --- | --- |
| Monday | 08:00 - 18:00 |
| Tuesday | 08:00 - 18:00 |
| Wednesday | 08:00 - 18:00 |
| Thursday | 08:00 - 18:00 |
| Friday | 08:00 - 18:00 |
| Saturday | 09:00 - 12:00 |
| Sunday | |
10.0 Excellent
19 Nov. 2016
Pros:
The cost was very good.
Cons:
It had a half of tank of gas. I expected it to be full so I could get right on my way and not have to stop and get gas right away.
Never again
Pros:
I didn't like anything about using hertz. I will never use them again.
Cons:
Everything from start to finish. Customer service was horrible. Supervisor wouldn't even come out to talk said he was too busy.
Read the VERY fine print....
Cons:
Won't take a debit card, even though you have enough money to BUY the car! Don't have any credit cards, don't believe in them. Been almost two weeks and still waiting to get my money back. One more week, my attorney will be involved.
Frustrating
Cons:
Added costs... car smelled like smoke.... windshield was cracked
Had to cancel
Cons:
Had to cancel due to a family emergency and they refused to give me a full refund since it was under 24 hours.
10.0 Excellent
27 Sep. 2017
Free upgrade and car pictures taken in advance
Pros:
I received a free upgrade from a compact vehicle (I believe that was the size I requested) to a crossover vehicle. Also, I was very pleased to see that the Hertz representative came with me outside to the car and was prepared to take pictures of any pre-existing damage on or in the car. In fact, the representative was ready to take pictures of anything I wanted documented on or in the car.
2.0 Mediocre
20 Oct. 2017
Terrible
Pros:
I went to pick up at and there were none available. Hertz employee said they overbooked and had no cars. They did not offer in any way to try and find me a car. Tough luck no car and no customer service to help out. On top of it I tried calling someone from Kayak and Hertz. Virtually impossible to get a live person on the phone.
Cons:
Horrible service. Hertz employees offered no help what so ever basically my unlucky day. Ruined our planned getaway.
Pros:
Nice car but wasn't vacuumed recently so floors were a bit dirty on the inside.
Delay
Pros:
Car was what we needed
Cons:
Had to wait 1 1\2 hours to get the car we reserved. Very poor excuses why it was not available when scheduled. Extra $200 credit not explained until after rental was completed. We will not make the mistake of renting from Hertz again.
9.6 Excellent
16 Apr. 2019
Pros:
Staff (becky) wonderful! Friendly and helpful and quick.
Cons:
I wished there were a better way to get from airport to Hertz location and back. Other than that I couldn't have asked for better.
56 travellers who rented a car in Erlanger gave the car agency they used an average rating of 7.0
Car rental locations in or near Erlanger
FAQs about renting a car in Erlanger
What is the best rental car company in Erlanger?
Based on ratings and reviews from real users on KAYAK, the best car rental companies in Erlanger are Avis (7.6, 2257 reviews), Budget (7.4, 4218 reviews), and Payless (6.6, 2635 reviews).
Which car rental companies will pick you up at the airport: Cinci./N. Kentucky airport (CVG)?
The only car rental company that offers shuttle or pick-up services from Cinci./N. Kentucky airport to off-airport locations is Thrifty.
How can I find car rentals near me in Erlanger?
Take a look at our extensive car rental location map to find the best rental cars near you.