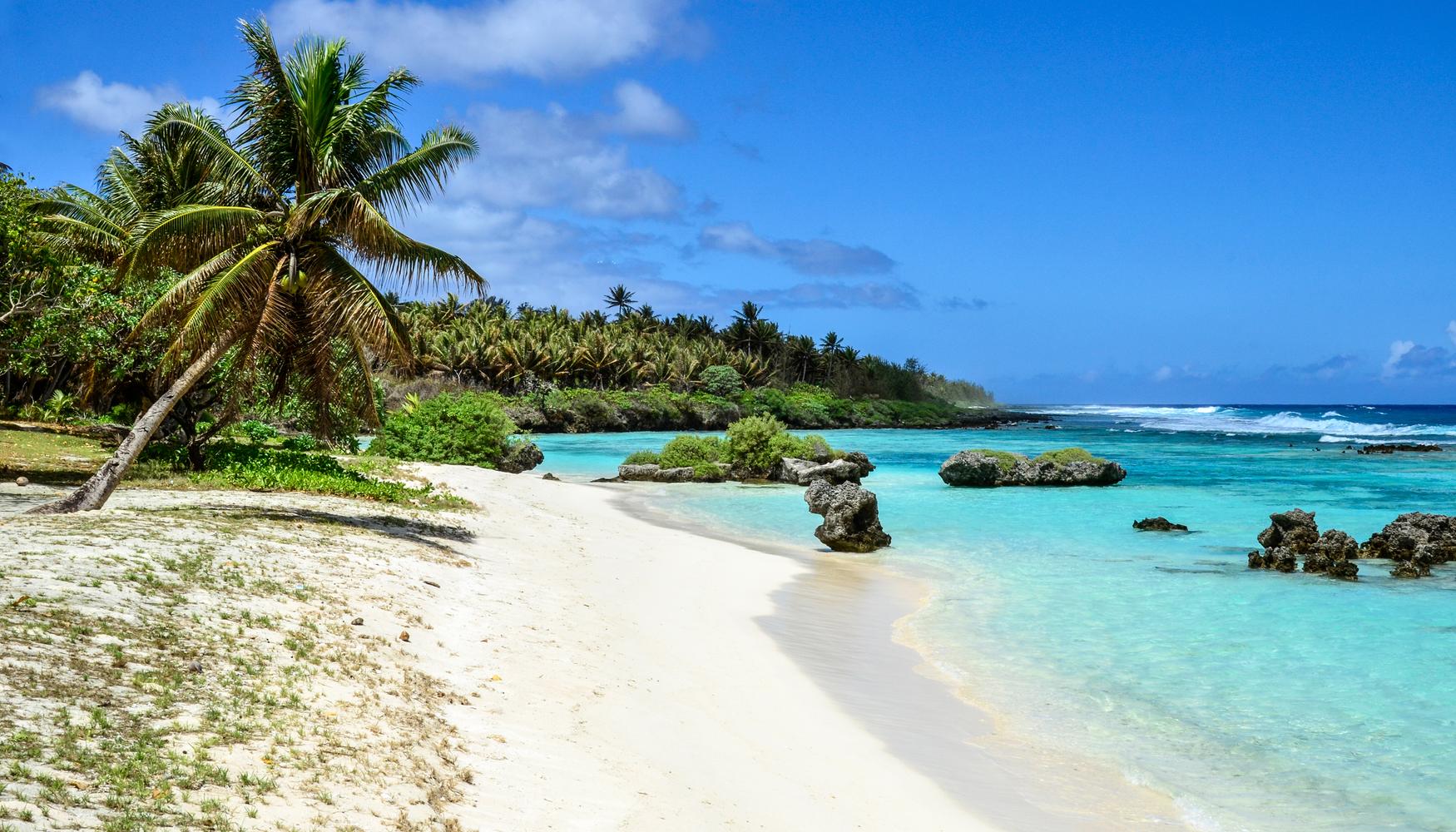 You're Going to Love Saipan
Located a stone's throw away from Guam, the island of Saipan is an inviting tourist destination with its wonderful tropical weather, white sandy beaches, and rich culture, natural resources, and history.
Saipan is the biggest and most populated island in the Commonwealth of the Northern Mariana Islands and is part of the United States of America. Magical Saipan features majestic swaying palm trees, azure waters, and a cool, crisp breeze all year round. It's little wonder that it's known as one of America's most beautiful places.
Top 5 Reasons to Visit Saipan
1. It Was Made for Vacationing
The island of Saipan is enchanting, to say the least. The beaches are beautiful and immaculate, while the blue lagoons, dense forests, and expansive mountains are dreamy. With year-round temperatures averaging between 75-85 degrees, this tiny island in the Mariana Trench is listed in the Guinness World Records' Book for having - wait for it - "the most consistent temperature!"
2. Micro Beach + Lau Lau Beach = Stunning
Saipan is one of the few tropical islands where you are bound to find isolated and unoccupied beaches with the best views. Whether you want to take a dip in the lovely waters of Lau Lau beach or soak up the tropical sun on Micro beach, Saipan has you covered. Swimming and snorkeling are just some of the activities that await you in this tropical paradise.
3. Immersive History and Culture
Explore the region's history by visiting Kalabera Cave, which was used as a prison during Spanish colonial rule. Or simply take in the cultural diversity in town. Here, you will find Chinese, Filipinos, and Americans conversing in their respective languages in the same joint. It truly is a hidden treasure.
4. Fun Activities
With great temperatures, beautiful scenery, and fun vibes all around, Saipan boasts a multitude of activities available for every willing traveler. Snorkeling, swimming, and reef exploration are just a few. Couple that with excellent golf courses (LaoLao Bay Golf & Resort), opulent hotels (Hyatt Regency Saipan), restaurants, and sprawling shopping centers (Joeten Shopping Center), and you will definitely not miss home.
5. It's a Photographer's Fantasy
Saipan is picture perfect from every angle. From the white sandy beaches of Managaha Island to the breathtaking sunrises that can be viewed from the Banzai Cliffs, just about every corner of Saipan is postcard-worthy.
What to do in Saipan
1. Visit Suicide Cliff
Toward the end of World War II, 3,000 Japanese soldiers and civilians jumped off this cliff located near the northern tip of the island. The Japanese jumped to avoid capture and torture by the Americans, who were winning the war. Its somber history is well in the past, and today, Suicide Cliff offers a panoramic view of Saipan and out over the sea.
2. Dive at the Grotto
Famed as one of the best diving spots in the world, this spectacular area in Saipan boasts cobalt blue hues with three underwater passageways leading out to the open sea. Inexperienced divers should be cautious trying it out as the seemingly calm water can have powerful and random surges. Either way, just passing by the Grotto is an adventure on its own.
3. Tour a Submarine
If you prefer staying dry underwater, then why not take a submarine tour. You can also hire the vessel for a foray into the deep seas to explore ship and plane wrecks and view thousands of breathtaking corals and marine life.
4. Ride a Banana Boat to Managaha Island
Just off Saipan's west coast is Managaha Island, a small, uninhabited islet with waters that are somehow bluer than those that surround Saipan. Managaha Island is famous for diving tours, while the islet itself forms a picturesque backdrop for the best vacation pictures.
5. Hike to Forbidden Island
Saipan is one of those places you just want to see more of and explore. One of the best ways to do so is hiking, and Saipan's Forbidden Island offers the best trails, which lead up to sweeping panoramic views. Although the hike can be a bit daunting if it rains, the view is worth every huff and every puff.
When to Visit Saipan
Temperatures in Saipan barely vary all year round. However, the dry months are December through March, which then gives way to the warmest and hottest months starting May through July. However, these happen to be the busiest months. If you want to avoid high prices and crowds, traveling during the off-peak seasons (June to August) and holidays is your best bet for tranquil and crowd-free touring.
How to Get to Saipan
Plane
Getting to Saipan is only possible via plane, and arrivals land at Saipan International Airport. From there, getting a taxi into town is easy, and you will pay $10 for the trip if it's been organized by your hotel and up to $30 if you hail one yourself. From Japan, it is a 3-hour flight. Flights are also available from Guam (50 minutes), Hong Kong (a little over 5 hours), or Seoul (approximately 4h 35m).
Airports near Garapan
Airlines serving Garapan
Show more
Where to Stay in Saipan
From the luxurious Hyatt Regency, the auspicious Fiesta Resort and Spa, which are excellent for the luxury seeker, to the affordable G.T. Guest House and the perfect budget option Garapan Guest House, Saipan has something for everyone. A lot of hotels are clustered in the Garapan neighborhood, which gives you access to good shopping options and to Micro Beach. San Antonio in the island's southwest pocket is home to the island's craft beer brewery, Franken Brau.
Where to stay in popular areas of Garapan
Most booked hotels in Garapan
How to Get Around Saipan
Public Transportation
There is no public bus service in Saipan but a free shuttle runs between T Galleria by DFS (a duty-free mall) and most major hotels.
Taxis
Taxis in Saipan are everywhere. From the airport to Garapan, where most hotels are located, charges vary between $25-$30. When arranged through your hotel, the cost usually comes down to a flat rate of $10 per person.
Car
On average, hire cars cost $33-$50 per day, and local companies include Hertz and Islander Rental Car. Scooters are also available for hire. Costs range from $25 to $30 for a day. However, this is only practical during the day when there is no rain as roads can get slick when wet.
The Cost of Living in Saipan
Shopping
Most of the shopping centers in Saipan are in Garapan. T Galleria by DFS is here and features some big high-end outlets, including Louis Vuitton, Chanel, and Ralph Lauren. Here, you can also shop for fragrances, fine liquor, and accessories. Garapan is also home to a lively a street market (Tuesday and Thursday evenings), where you can buy souvenirs and yummy food.
Supermarkets and Food Stores
I Love Saipan is one of the most iconic shopping plazas here with a wide display of novelty ware. The store has souvenirs and clothing, and the ground level is stocked with foodstuff. Typical prices in Saipan vary from $10 for basic lunch in the city center, $3.90 for 2lb of tomatoes, $5 for 2 lb. of potatoes and $14 for a bottle of good quality, red wine, which can be bought at I Love Saipan.
Where to Eat in Saipan
Hiro Japanese restaurant is known for traditional and modern Japanese cuisine made with local produce. Lunch starts at about $8. Casa Urashima caters to those with sophisticated palettes. Its à la carte menu offers Japanese and Italian specialties. Kinpachi features Japanese staples including teppanyaki, tempura, sashimi, sushi, and ramen. There is also a variety of fresh seafood, and if you bring your own fish, they prepare it for a fee. A decent, cheap meal can be had for between $10 and $20 in Saipan.