You're Going to Love Jaisalmer
Like a mysterious oasis rising tall in the desert, Jaisalmer rises proudly in the distance. It was once a city meant for the royals of Indian heritage and history. Discover all this beautiful, historic city has to offer. With its forts and palaces that are hundreds of years old, a freshwater lake, hilly sand dunes, traveling caravans of indigenous people and open-air markets, Jaisalmer will spark your imagination.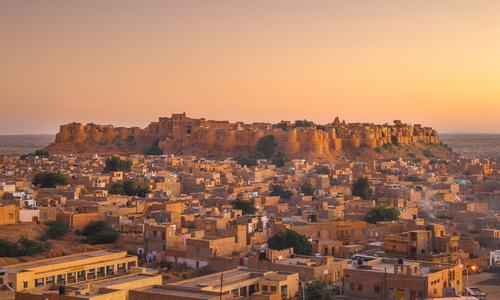 Top 5 Reasons to Visit Jaisalmer
1. Visit the Breathtaking Jaisalmer Fort
The Jaisalmer Fort draws travelers from around the world who want to take in the beautiful temples, ancient wells and grottoes and the intricate stone-carved designs.
2. Hitch a Camel Ride at Sam Sand Dunes
No trip to Jaisalmer is complete without a visit to the Sam Road dunes and desert safari. Take a sojourn on a camel here!
3. Visit the Various Bazaars
Get your haggle on and come prepared to take back a truckload of locally produced scarves, shawls, semi-precious stones, jewelry, singing bowls and carpets.
4. Indian Cuisine... and More
While the shining star of this Indian city is still Indian food, in particular Gujarati cuisine, Jaisalmer's restaurants are no strangers to Chinese, Tibetan and Italian fare.
5. Reconnect with Nature at Mirvana Nature Resort
Located in Bhaskar Mohalla neighborhood is this haven of desert-tented camps, dances around campfires, traditional folk music, pools and baths to soak in.
A popular activity in Jaisalmer
Overnight stay in the Desert
Find activities
Top activities in Jaisalmer
Private Full-Day City Tour of Jaisalmer visit Fort, Havelis and Camel Ride
Duration: 10h
Private Half-Day Tour of Golden Monuments in Jaisalmer
Duration: 4h
Private Full-Day City Tour of Jaisalmer
Duration: 10h
The Billion stars Experience in the Desert
Duration: 1d
Private Half-Day Jaisalmer Morning Tour
Duration: 5h
When to Visit Jaisalmer
Summer is extremely hot in the desert so the best time to visit is from November to March. Temperatures range from lows of 44°F to highs of 80°F.
How to Get to Jaisalmer
Plane
The closest airports are in Jodhpur (177 miles away) or Jaipur for international travelers (349 miles away.) Upon arrival, grab a pre-paid taxi, starting from ₹5,500.
Train
Trains arrive at the Jaisalmer Railway Station in Gandhi Nagar. The direct service from Delhi is the Shalimar Express. Fares start at ₹425 but vary depending on class.
Car
Use the NH125 and then merge on to the NH11 to get from Jodhpur to Jaisalmer. Going from Jaipur to Jaisalmer, use the RJ SH19 and NH11.
Where to Stay in Jaisalmer
Luxury lovers will delight at Desert Haveli Guest House, a heritage hotel. For moderate prices but a comparable stay, check out Artist Hotel. Otherwise, Hotel Fort View is a great budget option.
Popular Neighborhoods in Jaisalmer
Sam Road – Stretching away from the city is Sam Road, home to the famous Sam Sand Dunes, and the incredible heritage hotel Suryagarh, that feels like an oasis.
Postal Colony – Atop the sparkling, calm waters of the GadiSar Lake, you'll find gorgeous stone gazebos, temples and tombs; A perfect spot for viewing the surrounding city.
Dhibba Para – Home to the incomparable majestic beauty that is Jaisalmer Fort, Dhibba Para is a popular destination for travelers who are also looking to be within walking distance to the Patwon-ki-Haveli.
Where to stay in popular areas of Jaisalmer
Most booked hotels in Jaisalmer
How to Get Around Jaisalmer
Public Transportation
Public transportation in Jaisalmer is a combination of walking, biking and autorickshaws.
Taxi
You can grab a pre-paid car from private operators like Clear Car Rental or Jaisalmer Car Rental. Chauffeur-driven or cab services for a day start at ₹1,200.
Car
You can also book self-drive car rentals from Clear Car Rental. Prices start at ₹25 per hour for 8 hours.
The Cost of Living in Jaisalmer
Shopping Streets
Local crafts and handmade jewelry are Jaisalmer's specialty that you can find at open-air markets and bazaars. Check out the Jewel Caravan next to the Sadar Bazaar for semi-precious stones, mandalas, Tibetan singing bowls, etc. Or, check out Shayama Cashmere Store for silk and cashmere clothing.
Groceries and Other
A quart of milk in Jaisalmer is ₹25 while a dozen eggs cost ₹38.
Where to Eat in Jaisalmer
While there are many restaurants with various European fare appealing to tourists, head to The Seven Spice Restaurant, which specializes in Indian and Tibetan cuisine, besides sporting a gorgeous view of the city. Meals cost between ₹100 - ₹350.
Other popular cities in Rajasthan