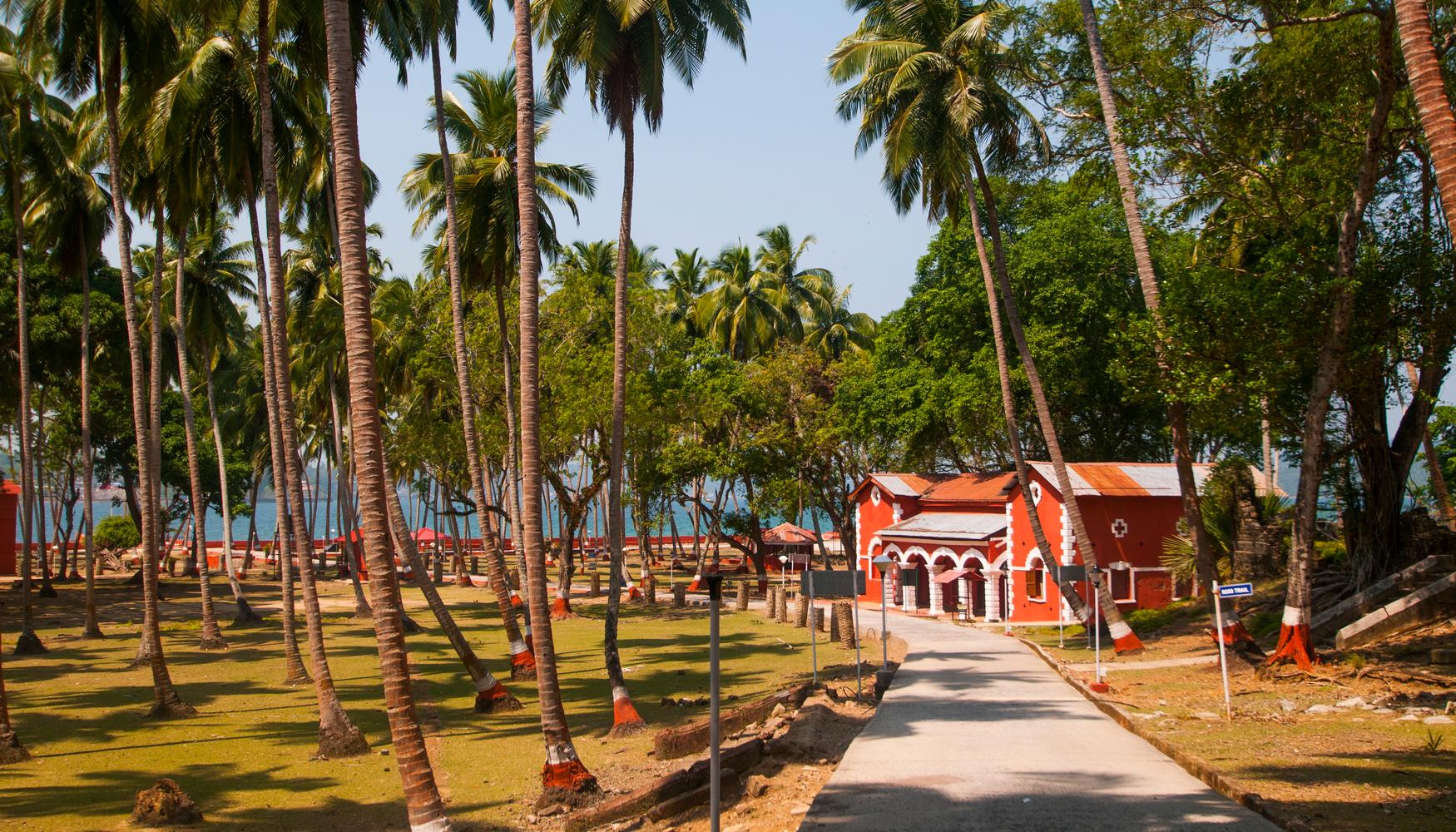 You're Going to Love Port Blair
The capital of India's Andaman Islands is a charming multicultural city with a fascinating history and a lively dining scene. You can easily while away a couple of days exploring its sights and the seafront neighborhood, but that's not really why most people visit Port Blair.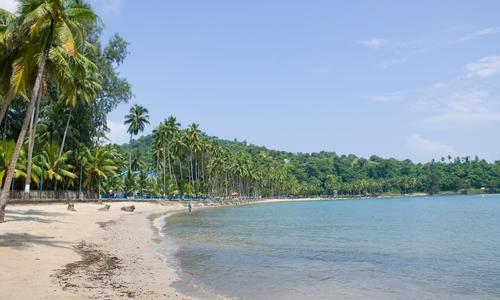 It's what lies beyond the port city that really attracts visitors. The reefs around the Andamans are among the world's finest diving locations, while coastal beauty spots like Radhanagar Beach offer awesome sunsets and tropical seclusion. And the harbor is a great jumping off point for island tours, taking in the ruins of Ross Island, idyllic refuges like Elephant Beach, and the gorgeous scenery of Havelock Island.
More than a base for exploration, Port Blair is a thriving tourism hub, and the ideal spot to launch a tropical Indian Ocean adventure.
Top 5 Reasons to Visit Port Blair
1. The City's Fascinating History
Port Blair is a former British penal colony, where opponents of the East India Company were dispatched. That somber history combines with a dynamic modern population drawn from cultures around the Indian Ocean, creating a unique mix.
2. World-Class Reef Diving
If you love to descend to wildly colored corals and mingle with exotic fish species or aquatic mammals like dugongs, the Andamans are the place to do so. Unspoiled reefs offering an incredible spectacle are a short boat ride away from Port Blair.
3. The Chance to Visit Unspoiled Andaman Beaches
From Elephant Beach to Radhanagar, there's no shortage of wonderful coastline to explore, and the weather's usually superb.
4. Souvenir Hunting at Aberdeen Bazaar
Visitors can come away with some one-of-a-kind bargains at Port Blair's buzzing bazaar - the place to go for locally crafted bamboo jewelry, necklaces made from Andaman pearls, and traditional fabrics. Be prepared to haggle!
5. A Cosmopolitan Dining Scene
The cultural diversity of Port Blair is reflected in a wonderful range of restaurants. From southern Indian vegetarian dishes to Indian Ocean seafood, Thai stir fries, and even Israeli cuisine, it's a fine place to dine.
What to do in Port Blair
1. Visit Cellular Jail
Built in the 1890s, Cellular Jail was intended by the British to hold opponents of colonial rule, and life there was brutal. The prison survives intact, and visitors can see how it was designed to isolate prisoners, breaking their spirit. On a lighter note, it also hosts a dazzling light show every evening.
2. Learn about Nicobarese Culture at the Anthropological Museum
The Anthropological Museum is the city's most engaging museum, showcasing the long history of the islands' native culture. From weapons and shamanic sculptures to handwoven baskets, there's a lot to see.
3. Try Night Diving at Havelock Island
One of the greatest diving experiences available anywhere, Havelock Island (around 40 miles from Port Blair) offers night-time descents with PADI qualified experts.
4. Swim with the Dugongs at Mac Point
During the day, divers can also get to know Mac Point's colony of dugongs, who happen to be the state animal of the Andaman and Nicobar islands.
5. Relax at Radhanagar Beach
Port Blair is near some of the Indian Ocean's best beaches, and Radhanagar is chief among them. Located on Havelock Island, Radhanagar consistently makes it into worldwide top 10 lists, and it's an unforgettable sight.
When to Visit Port Blair
Thanks to their tropical latitude, the Andaman and Nicobar islands tend to maintain a warm temperature all year round, although the monsoon regularly arrives from May to September. Try anytime from November to May for fine conditions, while March and April offer slightly milder heat and may be slightly cheaper.
How to Get to Port Blair
Plane
Most visitors to Port Blair arrive at Veer Savarkar International Airport, which provides connections to Kolkata, Chennai, and Delhi. Auto-rickshaws to the town center cost around Rs. 30 and bus fares are Rs. 7.
Boat
If you don't fancy flying, it's possible to take passenger ships to Port Blair. Ferries from Chennai and Kolkata take 60 hours in total and costs range from Rs. 2,000-8,000. Ferries also run from other Andaman Islands like Havelock Island and Neil Island and cost from Rs. 1,400-1,800.
Car
Port Blair is located in the southern part of South Andaman, and National Highway 4 provides road access to other regional towns like Baratang and Mayabunder, so if you're staying in the north of the island, reaching Port Blair is easily done.
Bus
STS buses run from Diglipur in North Andaman along with towns like Mayabunder and Ramnagar to Port Blair's Mohanpura Bus Terminus. It's advisable to book in advance via the STS phone line.
Airlines serving Port Blair
Show more
Where to Stay in Port Blair
The best hotels in Port Blair tend to be close to the city center and the seafront. J Hotel is a modern hotel in the heart of the city, while the Sea Princess Beach Resort at New Wandoor beach is an excellent place to consider near the coast. The Megapode Resort is a secluded high-quality hotel overlooking the harbor and will be convenient for island hoppers. Some of the best areas to stay in include Phoenix Bay, a quite family district close to good hotels and the Samudrika Naval Marine Museum, and the Aberdeen Bazaar area, a lively neighborhood in the northeast with lots of attractions and good nightlife options.
Where to stay in popular areas of Port Blair
Most booked hotels in Port Blair
How to Get Around Port Blair
Public Transportation
Public transportation in Port Blair itself is almost non-existent, although buses leave Mohanpura for cities elsewhere on the island. Most locals and visitors rely on auto-rickshaws instead.
Taxis
The city's auto-rickshaws are an indispensable way to get around. Just hop in and tell the driver where you need to go. Expect popular journeys like getting from Aberdeen Bazaar to Phoenix Bay to cost around Rs. 30. Conventional taxis are also available. An airport transfer to the city will cost around Rs. 250-300.
Car
Hiring a vehicle and driver is a popular way to get around the islands and generally costs between Rs. 3,000-5,000 per day. Self-drive deals are less common but are becoming easier to find, and operators like Ride & Drive should offer medium-sized vehicles for around Rs. 3,000-4,000 per day.
The Cost of Living in Port Blair
Shopping
Aberdeen Bazaar is the leading shopping neighborhood in Port Blair, at least if you are interested in buying distinctive bamboo crafts and jewelry. The Sagarika Government Emporium is almost as intriguing, offering local crafts such as coconut shell lamp shades and conch shells for around Rs. 200-600. MG Road in Phoenix Bay is another busy shopping area, with a more upmarket feel.
Supermarkets and Food Stores
There aren't many supermarkets in Port Blair, but travelers should find any essentials they need at places like SKDS and Hi Land. Because of the city's island location, prices tend to be higher than those in mainland India, but reasonable by global standards. For instance, expect a gallon of milk to cost around Rs. 150.
Where to Eat in Port Blair
Port Blair prides itself on its diverse range of dining options, and it's a particularly great place for vegetarians and seafood lovers to explore.
For starters, the New Lighthouse is a local institution, where seafood dishes like grilled red snapper are a specialty and most meals lean towards the spicy end of the spectrum. MG Road's Annapurna is a delight for veggies, while Excel has a cosmopolitan feel and attracts a backpacker crowd with its global menu. Meals are typically very affordable at Rs. 100-200 per person.