You're Going to Love Ulan Bator
Few cities in the world have experienced as much change over the past 20 years as Mongolia's capital, Ulan Bator. Home to around half of the nation's population and growing all the time, Ulan Bator has shrugged off the Communist era, developing a thriving youth culture (with a huge K-Pop music fanbase), and some fabulous dining experiences.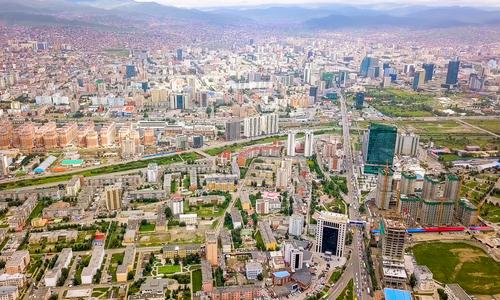 It's also started to exploit the rich history of Mongolia, with monasteries, traditional theaters, and archaeological museums, creating a unique blend of the old, new, and the completely unpredictable. Whether you're headed for a yurt stay on the steppes or passing through to Beijing, Ulan Bator has plenty to offer.
Top 5 Reasons to Visit Ulan Bator
1. History and Spritual Endurance
Life hasn't always been easy for Mongolian Buddhists, but they are well and truly back in the saddle these days, and the country's rich religious heritage is a major attraction - from dazzling temples like Gandam to the dancing masks collection at Choijin Lama.
2. Excellent Museums
The capital's museums offer a great spread of attractions. The Natural History Museum is exceptional, as is the National Museum of Mongolian History, but smaller attractions like the Museum of Mongolian Costumes also delight.
3. A Dynamic Youth Culture
30 years ago, nobody would have anticipated Ulan Bator's craze for Korean pop, and the capital's youth culture continually changes. Don't miss hip venues like iLoft, or schedule a trip for July when the Playtime Festival hits nearby Gachuurt.
4. Offbeat Sporting Attractions
Forget about NFL or basketball.Ulan Bator is the place to sample something a little bit different:Mongolian wrestling.The Wrestling Palace hosts bouts of "Bökh" wrestling all the time, and the atmosphere is incredible.
5. It's a Place to Launch Adventures
By basing yourself in Ulan Bator, you can head into the steppes for horseback riding or yurt stays, see the wild horses of the Hustai National Park, ride camels, or visit huge temples like Amarbayasgalant Monastery.
What to do in Ulan Bator
1. Visit Gandan Khiid
Ulan Bator's largest Buddhist monastery managed to keep going during the communist era (while thousands of smaller monasteries disappeared). The 85-foot-tall Migjid Janraisig statue is the highlight, but the whole complex is fascinating.
2. Tour the Winter Palace
This splendid palace was the last home of Mongolia's royal ruler, the Bogd Khan. Aside from its beautiful architecture, it boasts a marvelous collection of artifacts from the final years of Khan's life, as well as Mongolia's 1911 declaration of independence.
3. Discover Mongolia's Past at the National Museum of Mongolian History
This museum is Ulan Bator's finest, laying out the country's glorious past - from prehistoric Uyghur cultures to the empire of Genghis Khan. Look out for the Ganlin Horn, a Buddhist instrument made (reportedly) from a human femur bone.
4. Head to the Hustai National Park
Not far from downtown Ulan Bator, the Hustai is one of Asia's finest wildlife preserves and is famous for reintroducing takhi horses to the Mongolian steppes. Tours show off the elegant horses as well as some intriguing Ungut monuments from the 8th century.
5. See the Monuments at Sükhbaatar Square
Dedicated to Mongolia's 1921 revolution, Sükhbaatar is the city's focal point. It's known for its impressive statues, both of the revolutionary leader Sükhbaatar himself, and the great Genghis Khan, while the Mongolian National Modern Art Gallery is on one flank of the square as well.
A popular activity in Ulaanbaatar
Genghis Khan Day Tour with Gorkhi-Terelj National Park
Find activities
Top activities in Ulaanbaatar
Small-Group Horseback Riding Day Tour
Duration: 7h
1 Day Semi-Gobi Tour Including Lunch And Free Camel or Horseback Ride
Duration: 1d
1 Day Coach Tour of Genghis Khan Statue Complex and Terelj National Park Including Lunch
Duration: 6h - 8h
Ulaanbaatar Private Day Tour
Duration: 6h
Day Coach Tour of Genghis Khan Statue Complex and Terelj National Park Including Lunch
Duration: 6h - 8h
Ulaanbaatar Explorer Tour
Duration: 5h
When to Visit Ulan Bator
Ulan Bator is a very cold winter destination, so summer is really the optimal time to go. July and August bring the lively Naadam Festival, with its sports and music events, but late May and June, or September and October are appealing times as well, with the steppes at their lushest and generally mild temperatures.
How to Get to Ulan Bator
Plane
Most visitors arrive at Chinggis Khaan International Airport. Airlines like Air China and Korean Air fly into Ulan Bator from Hong Kong, Seoul, and Beijing, making transfers from the rest of the world fairly easy. Expect taxis from the airport to cost around MNT10,000-15,000.
Train
Ulan Bator is on the Trans-Mongolian Express route, a branch line of the Trans-Siberian Railway. The journey time from Ulan-Ude on the Russian border to Ulan Bator is 15 hours, and the train costs around MNT300,000. The same route also runs from Beijing to Ulan Bator, taking over 24 hours.
Car: Driving from Beijing to Ulan Bator is a long haul (around 700 miles) but it can be done. Take the G6 to Ulanqab, then head through Inner Mongolia via the G55, which becomes the G208.
Bus: There are no direct buses from Beijing to Ulan Bator, although Bjerl Line offers services to Erlien for MNT65,000. From there, you can take trains to the capital.
Airports near Ulaanbaatar
Airlines serving Ulaanbaatar
Show more
Where to Stay in Ulan Bator
Popular Western-style hotels in Ulan Bator include the Best Western Premier Tuushin Hotel and the Kempinski, but smaller boutique hotels are more fun. Standouts include the Urgoo Hotel, right next to the National Museum, and the Lotus Guesthouse, which offers strong concierge services, plenty of parking, and is partly run by an orphans' charity. Some of the most popular districts to base yourself in include Baga Toirog, a green neighborhood with poplar-lined streets and a diverse dining scene, and Zaisan, a prosperous part of town with excellent eateries and famous for its impressive war memorial to Mongolia's World War Two dead.
Where to stay in popular areas of Ulaanbaatar
Most booked hotels in Ulaanbaatar
How to Get Around Ulan Bator
Public Transportation
Buses run throughout the city but tend to be fairly crowded. There's a flat fare of MNT500 for all journeys, as long as you have a U-money card, which can be purchased at street kiosks.
Taxis
Official taxis generally charge around MNT1,200 per mile, but be aware that plenty of unaccredited taxis also ply the streets. Companies like Help Cab & Tours provide assistance for foreign visitors booking cabs but charge a premium. Still, their help can sometimes be very handy.
Car
Hire companies in town include Sixt and Drive, and prices start at around MNT100,000 for sedans. If you intend to venture out of the city, a 4x4 vehicle is essential, and expect to pay MNT200,000 for a sturdy model.
The Cost of Living in Ulan Bator
Shopping
Aside from the riches on offer at Naran Tuul Market, Ulan Bator doesn't lack for malls and shopping opportunities. Don't miss the vast State Department Store, which is perfect for snapping up souvenirs. Chingeltei district is another place to look, where Mary & Martha Mongolia offer gorgeous embroidered products and Cashmere House deals in fine cashmere creations.
Supermarkets and Food Stores
NOMIN and Orgil are the major supermarkets in the Mongolian capital, but grocery stores can be found all over, while Mercury Market is a great place to pick up imported delicacies. Prices of some things can be high, as fruit and vegetables tend to be imported, but generally the city is fairly cheap. A gallon of milk should cost around MNT8,000, while 12 eggs will be about MNT3,800.
Where to Eat in Ulan Bator
If you want to tuck into Mongolian minced lamb dumplings and thick meat stews, Khara Khorum at the Kempinski is a local favorite, while Luna Blanca provides an unexpected and satisfying vegetarian spin on the nation's cuisine. However, Ulan Bator's dining scene is really diversifying, with excellent northern Indian joints like Namaste, and European cafes like Turning Point, where good food and jazz come together. Meals can be very cheap indeed, costing from MNT6,000 to 10,000 per head.