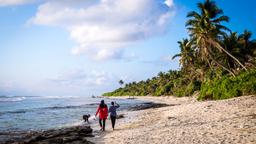 Hotels near Addu City Gan/Seenu airport
Search hundreds of travel sites at once for Addu City Gan/Seenu airport hotels
Best hotels near Addu City Gan/Seenu airport
Based on 146 reviews
All
Families
Couples
Groups
Solo travellers
Business travellers
Cleanliness
8.5
Comfort
8.6
Location
8.8
Overall
9.3
Services
8.2
Cleanliness
8.4
Comfort
8.6
Location
9.1
Services
8.5
Staff
9.1
Cleanliness
8.3
Comfort
8.1
Location
8.2
Services
7.8
Staff
8.5
Cleanliness
8.2
Comfort
8.6
Location
8.8
Services
8.0
Staff
8.7
Cleanliness
9.3
Comfort
9.4
Location
9.5
Overall
9.3
Services
8.8
Cleanliness
8.3
Comfort
8.6
Location
9.2
Services
8.3
Staff
9.2
---
Pros:
The staff was so nice. They really wanted to make my experience amazing. They were always super helpful and always accommodated me in anyway possible. Every Monday night a band would come and play and made things super enjoyable. The only way to stay at this hotel is if you get the all inclusive package, which included a daily snorkeling trip and a bike. Over all this hotel was super amazing. Great bang for the buck as well
Cons:
Now, this isn't the best hotel by no means. The sun mats by the pool area were torn and desperately needed replacement. Some of the building exterior (especially the spa hut) was missing a section of wall. But honestly, I knew what I was getting when I choose it.
Pros:
The pool looks just like it did in the pictures! It looks amazing! The beach is nice too, with calm blue water and good snorkeling! There are hammocks everywhere, and lovely views! The breakfast was very good, with lots of options. I really enjoyed my time here. Wonderful massage!
Cons:
They took a while to get back to me with the split stay confirmation (I almost cancelled my booking because they didn't confirm that they had done it.) The mask goes over both nose and mouth.
Pros:
The staff and beach were great. The staff were so friendly and helpful!
Pros:
This place is amazing. We stayed here for 6 nights and everything was beyond our expectations. Food , staff, beach everything is amazing. Special thanks to Harisa for arranging our flights and to Matloob for the water-sport's. Daily snorkelling tour is really good, we enjoyed a lot. Gan is a small island and has a lot to offer if you want to explore local Maldivian life style. Definitely recommended.
Cons:
Please upgrade bicycles 😀
Pros:
Definitely not a typical Maldivian resort, but it is unique with lots of history as it is located in the former UK air base. We really enjoyed our stay and the concept. The resort is super clean and all measures for COVID 19 protection are followed. All the people are friendly and service you with a smile. All inclusive option is a must. The buffet restaurant is OK with tasty food. We were expecting more variety of fruits and vegetables for breakfast but not much to complain. Because of COVID we couldn't do the island hopping tour, but get dolphin and Bushi island instead (paid tours) and it is totally worthy. The house reef is excellent for snorkeling and you can take a bike to see the sunset or visit the local islands.
Cons:
Not much to complain, but the people from reception are always not oriented and look un supportive. For example we had to ask multiple times to understand how our transfer will be organized.
Pros:
Location, atmosphere, nice staff, both the resort and a local island(s)
Cons:
- no information of e.g. trips like snorkeling, events at hotel / or information was wrong - never got reply to my questions at first time and got different information from different persons - some staff members were a little pushy which I found a little bit uncomfortable
Based on 132 reviews
All
Families
Couples
Groups
Solo travellers
Business travellers
Cleanliness
9.2
Comfort
9.3
Location
8.0
Overall
10.0
Services
9.2
Cleanliness
9.1
Comfort
9.0
Location
7.4
Services
8.9
Staff
9.4
Cleanliness
9.5
Comfort
9.6
Location
8.5
Services
9.4
Staff
9.5
Cleanliness
8.4
Comfort
9.1
Location
7.5
Services
8.9
Staff
8.9
Cleanliness
9.5
Comfort
9.0
Location
8.0
Services
8.0
Staff
8.5
Cleanliness
10.0
Comfort
10.0
Location
10.0
Services
10.0
Staff
10.0
---
Pros:
Everything was perfect. We were on a full board package and the services and food exceeded our expectations. We're vegetarians and there were plenty of vegetarian as well as vegan options available in the resort. If there were limited options on the menu for a specific day, the staff and the chef made sure that they would prepare food for us to the best of the capacity. Cannot recommend this resort and it's lovely staff enough!!
Pros:
A very quiet place with a wonderful staff. The resort was huge so did not feel overcrowded. Staff was very friendly. We stayed in the tree house villa and the room was amazing. Transportation from and to the resort was managed well by their staff. Loved everything in this trip will def be back again.
Cons:
Lunch and dinner at the restraunts was expensive. We knew that tho from friends that stayed there, so heads up.
Pros:
The water villas are great! Very spacious and luxurious. Only the outside terrace showed some weathering here and there due to sun and sea breeze. Restaurants very good. Friendly service in general. Some nice activities like Yoga or Indian head massage course.
Cons:
House reef is ok for snorkeling but probably not for diving (I haven't tried it out though). In Addu there is a great Manta Point and a wreck for diving but don't expect too much variety. Personally, I don't need a golf course.
Pros:
I enjoyed the island and all it's facilities
Pros:
Breakfast was nice. Location was far.
Cons:
in the last day i found some bugs on my bed. they provided another villa for me but it was not nice to wake up at 3:00AM because of it.
Pros:
Very attentive staff,genuinely nice and caring, wonderful water villa, snorkeling right in front of villa, free bikes, free buggy service if you don't want to ride a bike, complimentary water, villa equipped with everything you can imagine including safety west, mosquito repellent, after sun gel, toothbrush/paste, shaving kit, umbrella. Breakfast nice, very wide variety of options including local specialities and wonderful tropical fruits. L
Cons:
We liked everything exept for the bill afterwards - very expensive place.
Based on 124 reviews
All
Families
Young couples
Couples
Groups
Solo travellers
Cleanliness
8.8
Comfort
8.7
Food
0.0
Location
8.1
Overall
8.5
Cleanliness
8.8
Comfort
9.1
Location
8.5
Services
8.9
Staff
9.7
Cleanliness
10.0
Comfort
0.0
Food
0.0
Location
6.0
Overall
9.0
Cleanliness
8.8
Comfort
8.7
Location
8.1
Services
8.8
Staff
9.2
Cleanliness
8.8
Comfort
8.5
Location
7.7
Services
8.3
Staff
8.5
Cleanliness
8.8
Comfort
9.4
Location
8.1
Services
8.1
Staff
10.0
---
Pros:
Location We stayed in a Jacuzzi villa for 10 days I'd recommend you to book a Jacuzzi villa, as the private beach is more intimate & During high tide the water level reaches 5m away from your veranda, you can swim at this beach (unlike sunrise villa - where the beach is facing the open sea and is covered with rocks & its not advisable to swim at this beach) Staff Staffs were exceptional, service is exceptional, very kind & courteous staff Special mention - Shena, Azzan, Radhe, Ravender / Raaj (Naan Man), Sohail & Ammu Ammu & shena helped with our arrival & depature. Due to Covid-19 we couldnt stick to the travel plan anymore because of the rules & restrictions, but ammu helped us find another flight back from Gan to Male. Scuba team - PADI Divers such an amazing team, made us very comfortable, we initially wanted to just try once, because we were in Maldives & why not. But ended up diving twice. (I really recommend you to try scuba diving here, dive sites were perfect!!) Restaurant - Kilhi buffet was exceptional, each meal different option, never the same, Fresh food stations, live cooking stations, Grill stations, we stayed 10 days & did not complain once. You get your seats assigned at the restaurant ( this will be your place until you departure) Azzan & all the waiters were very kind. Honeymoon package We received a honeymoon package, a small bottle of wine, fruit basket & a cake Plus we dined on the beach My husband got a sunburn, and I requested if they have any aloe plants at the resort, thankfully they had a small plant which they were kind enough to bring it to the room. Absolutely loved the place. no complaints whatsoever
Pros:
Location was out of this world. Excellent food and facilities. Only 98 guests instead of 600 so felt like our private island. Nabba was great with snorkelling trips and Shena and Lamya so helpful on reception.
Cons:
Dive centre was unhelpful but independent to the hotel
Pros:
The staff and facilities. It was really amazing experience and we didn't regret coming to this resort. Thank's again to Joel, Samantha,Alvie,Shaflan,Huney,Ammu and Haid they made our experience very memorable.
Pros:
All the staff was very friendly and helpful, they leave us the impression that they are always concerned by our confort and satisfaction. Clean up is made twice a day - that really impressed me. The boy who clean up our vila (632- jacuzzi) Abu, was exceptionally- he deserves all our appreciation and awareness as he did every day an amazing job. Abu you are the best! The reception was very responsive too, the spa services are excellent, the service at the kilhi restaurant is very good too. The villas are very big, equipped with everything you need and you have your own beach(jacuzzi and sunset villas). It was a great idea that they offered us bicycles, it wad really fun.
Cons:
For europeans the food is a little spicy . I would appreciate a bigger souvenir shop with more products.
Pros:
Very spacious, fantastic pool with plenty of sunbeds and brollies, true tropical island, exciting boat ride from Gan to the resort, nice accommodation, decent food. Bikes were very useful.
Cons:
Villa was a little tired, beaches are pure coral so a bit sharp, not as much fish on the menu as I had expected.
Pros:
Condition of the Bungalows is excellent, Food variety acceptable with very good and friendly staff , the staff in check/in and check out very good and friendly. Dolphins watching activity very good
Cons:
The resort is too big and The management of the Buggies that transport us from 1 place to the other should be improved as there were times we were waiting long time for 1 buggy, The availability of food apart from the buffet was confined to 1 place, they should have food availability at least in 2 places apart of the buffet restaurant
Cons:
Bad bed quality No net against mosquitos Smell of the AC
FAQs when booking a hotel near Addu City Gan/Seenu airport
How much is a cheap hotel near Addu City Gan/Seenu airport?
How much is a cheap hotel near Addu City Gan/Seenu airport for tonight?
How can I find hotels near Addu City Gan/Seenu airport?
Where to stay in Addu City?
Our map will help you find the perfect place to stay close to Addu City Gan/Seenu airport by showing you the exact location of each hotel.