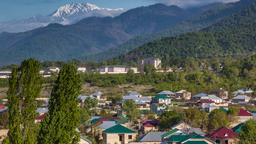 Hotels near Gabala Intl airport
Search hundreds of travel sites at once for Gabala Intl airport hotels
Best hotels near Gabala Intl airport
Based on 285 reviews
All reviews
Families
Couples
Pool
9.3
Food
8.8
Breakfast
7.5
Service
7.2
Room
5.8
Food
9.2
Breakfast
7.4
Service
7.4
Room
6.1
Location
5.7
Service
7.2
Comfort
6.0
Location
5.5
Room
5.2
Vibe
4.6
---
Pros:
Room is big, clean and well furnished. The territory of the hotel big, green, there is a small lake there. The breakfast choice was good. Welcoming fruit plate in room was a pleasant surprise.
Cons:
Children facilities. There is very small outdoor playground for children and no control in indoor room. Older children come and disturb the small ones. The national food in restaurant is to expensive for such poor quality (only dovga and dushbara were good). The European food was much better, but when travelling to such hotels one wait for good national organic food. Cars can drive to the door of the hotel making danger for children driving scooter or bicycle.
Pros:
The food, clean air, huge pool, and nearby (enclosed) bison made the trip worth it.
Cons:
It's a pity that Naftalan baths are no longer available. The individual wooden sauna needs to be fixed. Housekeeping forgot to give us more soap after the first day, so we washed our hands with shampoo. The bike rental fee is too high.
Pros:
The property was wonderful
Pros:
Fitness was good, room clean, breakfast was good
Cons:
In general everything was ok, but we were unlucky with recommended taxi by the hotel, I suggest hotel to select good taxi driver with reasonable prices since location consider to be a bit remote from center and no taxis are available near. Guest need to feel comfortable to choose your hotel again. Taxi driver charged us without fulfilling his commitment to take us around, he was leaving us waiting and he goes other places. He even didn't return us back with same car once he got the money. He was claiming money for services not provided and was fighting, we paid him to avoid problems, but he doesn't deserve it
Pros:
We enjoyed our stay in the hotel. Facilitates and location are perfect. Definitely will come back! Big thanks to personnel for prompt support and quality of service.
Cons:
I like service, it is good attitude to everyone, location is good ( if you have a car)
Pros:
It is in the heart of nature, surrounding covered with forest trees; it is a nice place for rest and peace;
Cons:
Room design and colors are nice; I did not like the lobby interior and some elements in exterior design, would be nice if wood or iron have been used instead the modern handrails:)
Pros:
I like the size of suit room i love the room i love the reception services excellent i love the piano i love the hotel I love the lake
Cons:
the breakfast can be better, if they add some natural azerbijan products jams honey etc wifi poor not good for sick people around the hotel somke of burn leaves
Pros:
It is good hotel , people were good
Based on 949 reviews
All reviews
Families
Couples
Solo
Wellness Area
8.6
Vibe
8.1
Pool
8.0
Location
8.0
Amenities
7.5
Location
8.2
Vibe
7.8
Amenities
7.6
Service
6.3
Breakfast
6.0
Wellness Area
8.5
Pool
8.3
Location
8.1
Amenities
7.9
Service
7.0
Vibe
7.6
Service
7.1
Breakfast
6.5
Room
5.7
Comfort
4.7
---
Pros:
I am not satisfied with breakfast
Pros:
Hotel's style is unique. I also liked the spa.
Cons:
Location is not accurate. Breakfast area is so crowded. Service is delayed.
Pros:
the hotel is amazing room is large and comfortable breakfast is good but needs to be a little improved
Cons:
Location was a bit far from any restaurant and shops
Cons:
The staff in reception was very unprofessional, I ask couple of times to provide napkins since with nothings provided . Definitely, I will not go again and I advise others to do so .
Pros:
Good breakfast, it was quite, the room is warm, equipped with everything you need (hair dryer, kettle), and I like these little compliments: water bottle, shampoo, sewing kit, shoe sponge, etc. The bed is comfortable, and everything is East style, good designed.
Cons:
There is no restaurants around.
Pros:
The rooms were very comfortable and clean. The staffs were very polite and helpful. The breakfast was delicious. The location was ok but there it was a bit difficult to find taxi to got to different places. The spa and swimming pool were also nice, we really enjoyed the sauna after coming back from the snowy mountains. There was a supermarket just beside the hotel to buy some useful stuffs.
Cons:
They provided only local drink and water during breakfast, we had to pay for the juice.
Based on 362 reviews
All reviews
Families
Couples
Pool
9.3
Food
9.2
Vibe
7.1
Service
6.6
Room
6.2
Food
9.3
Service
7.0
Breakfast
6.5
Location
6.4
Amenities
5.7
Service
6.2
Location
5.8
Comfort
5.8
Room
5.6
Breakfast
5.6
---
Pros:
I did not like anything
Cons:
Staff was very rude Breakfast was really bad The room was not good I requested for a dinner in the hotel and i got different order. The waiter was very rude when informed him about the mistake. No one welcome the guest. It was the worst hotel I have stayed at.
Pros:
A beautiful location with very friendly staff always ready to assist. Breakfast was great. Would recommend this hotel for a very enjoyable vacation. Facilities like sauna gym and play areas are very nicely maintained. Full marks to this hotel... loved it...
Pros:
Room was clean and stuff was very helpful and smiling (Especially Nazli xanim) . Meals were delicious.
Pros:
Lovely and helpful staff, especially, Gulana, Sarvan and Rahim. View to mounting is amazing. Its definitely value for money!
Cons:
There was little smell in the rooms
Pros:
I like here beacuse its near to Gabala the staff the food was good
Cons:
Nothing almost good
Cons:
Not clean, poor breakfast
Cons:
Everything was amazing. The staff were very kind specially Gulana. Its a good place to relax.
Cons:
The breakfast it was not we expected!
FAQs when booking a hotel near Gabala Intl airport
How much is a cheap hotel near Gabala Intl airport?
How much is a cheap hotel near Gabala Intl airport for tonight?
How can I find hotels near Gabala Intl airport?
Where to stay in Gabala?
Our Heatmaps tool will help you find the perfect place to stay in Gabala by showing you how close hotel options are to major activities