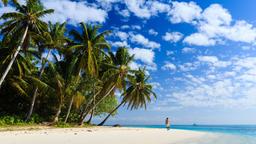 Hotels near Ile Sainte-Marie airport
Search hundreds of travel sites at once for Ile Sainte-Marie airport hotels
Best hotels near Ile Sainte-Marie airport
Based on 129 reviews
All reviews
Couples
Families
Bar
10.0
Location
9.7
Service
9.6
Wellness Area
9.4
Vibe
9.0
Location
9.8
Service
9.7
Beach
9.5
Pool
8.7
Value
7.3
Service
9.7
Breakfast
7.4
---
Pros:
The island is amazing an absolute must visit, princess bora is the best place to stay Princess bora food is also amazing, surprising very good quality French pastry and French style fin dining
Cons:
The massage at the princess bora spa can be improved Some of the dish at pricess bora could be more local even though the food was always fine French style dining
Pros:
Overall excellent stay, we spent 4 very enjoyable days there after 3 weeks of touring Madagascar. Very comfortable bungalows under the trees, with lots of privacy. Very friendly, courteous and helpful staff. There is a variety of areas to enjoy the beach and the sea, including a jetty with lounge beds and a marked sea pool (swimming only during high tide). Also a good size outdoor swimming pool which most of the time was not busy. Excellent breakfasts which lots of choices, including fresh pastries, eggs done in the wood-fire oven, and very good coffee - you could also ask for espresso etc. Dinner (included in our tariff) options were also very good, tasty and well presented. Very good choice of wines which you go choose in the cellar, as well as excellent fruit-flavoured rhums. We also went to a whale-watching trip with them which was great. Some people complain about the absence of TV etc, we see it as a plus. The location is perfect for the airport (walking distance, but the airport transfer they propose in zebu cart is fun) and for the Ile aux Nattes which you can perfectly visit on your own, just walk to the boats which take you across in a few minutes, and then you can walk around the island and enjoy the beaches which are better there. For the rest of St-Marie island, it's quite long drive if you want to go all the way to the north but we managed to do it one day by rented motorbike.
Cons:
There is wifi only in the lounge area where the signal is a bit weak, especially when there are several people using it (which is most of the time), and at the reception where it worked faster. If anything at all about dinners (but really a minor thing) they used the same sauce for almost all mains every day which became a bit repetitive. The excursions they sell and motorbike rentals are expensive.
Pros:
the beach is great. the breakfast and the dinner are good. the staff is helpful. the hotel is beautiful. the spa is really great.
Cons:
comfort in the room (i would recommend an electric outlet close to the bed for example). and adding a sofa maybe. it is hard to navigate inside the hotel. there was no sea view from my room.
Cons:
Waiters can improve dealing with clients
Pros:
Friendly and helpful staff. Amazing spa. Great location. Good food. Beautiful lodges. Great beach access.
Pros:
The staff were extremely helpful and friendly. We were celebrating our honeymoon and my birthday and they were so nice sang happy birthday and even made me a cake! The best place in Madagasikara!!!!
Pros:
Outstanding views, friendly people, green gardens, good prices for additional services , wild nature, clean ocean, dinners are marvellous. Villas about 10 years old, need small repairs, but otherwise very nice and comfortable. Breakfast missing vegetables. Bed linen clean and beds are enough comfortable for hotel. If you have a choice take an executive villa, other villas are older and much darker. Take with you spray against mosquitoes. And some pills for stomach if you are from Europe or USA. Owner is very helpful and kind, as well as staff.
Cons:
Breakfast too small choice. Music every day the same, but after we told that, they changed to new one.
Based on 45 reviews
Service
9.5
Room
8.8
Vibe
8.8
Location
8.1
WiFi
0.0
---
Pros:
The cabin is great, with nice bed. Staff are very hospitable and supportive. I love the beach and the pool. Great ocean view.
Pros:
The swimming pool and private beach are great with beautiful sunsets. Free kayaks available
Cons:
Overpriced basic rooms (standard double room) Way too far from anything (45 min very bad road). Isolated Wifi unusable Extremely slow food and expensive, the breakfast is the same bread-butter-jam-eggs combo as everywhere else in the country Staff very friendly but no one speaks english
Based on 17 reviews
Service
7.8
Food
6.3
Pool
6.0
---
FAQs when booking a hotel near Ile Sainte-Marie airport
How much is a cheap hotel near Ile Sainte-Marie airport?
How much is a cheap hotel near Ile Sainte-Marie airport for tonight?
How can I find hotels near Ile Sainte-Marie airport?
Where to stay in Ile Sainte-Marie?
Our Heatmaps tool will help you find the perfect place to stay in Ile Sainte-Marie by showing you how close hotel options are to major activities