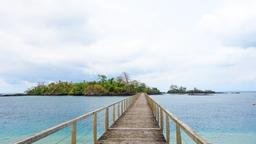 Hotels near Malabo Santa Isabel airport
Search hundreds of travel sites at once for Malabo Santa Isabel airport hotels
Best hotels near Malabo Santa Isabel airport
Based on 75 reviews
All
Families
Couples
Groups
Solo travellers
Business travellers
Cleanliness
7.8
Comfort
7.2
Facilities
6.0
Location
7.6
Overall
8.0
Cleanliness
7.5
Comfort
8.1
Location
8.1
Services
7.5
Staff
8.8
Cleanliness
6.7
Comfort
6.7
Location
7.5
Services
6.7
Staff
7.5
Cleanliness
7.3
Comfort
6.8
Location
7.1
Services
6.6
Staff
7.0
Cleanliness
8.1
Comfort
7.5
Facilities
6.0
Location
7.7
Overall
8.0
Cleanliness
7.8
Comfort
7.1
Location
7.6
Services
6.9
Staff
7.5
---
Pros:
The stuff was very kind from the moment I checked in. The hotel was very clean and the breakfast was delicious. The hotel was closed to my job and it was easy to commute without having to pay much for taxi.
Cons:
It has no gym and a little bit pricey for my budget but if people can afford it that shouldn't be a problem.
Pros:
The breakfast was nice but it often required finding a staff member to make eggs. The opening time was 06:30 but often by 7 nothing would be out.
Cons:
The internet was bellow 1 Mgps and often non-effective. Their was no AC in the building save for your own room. Dinning was very hot both indoors and outdoors.
Pros:
I liked breakfast quite good many things to choose I really like that it
Cons:
Room too small and no bathroom I thought there was in fact just shower.
Pros:
LOCATION IS GOOD, BREAKFAST WAS OK AS I AM A VEGITARIAN AND COULD MANAGE.BUT STAFF IS LOOKS UNCONCERNED.
Cons:
MANY THINGS COULD HAVE BEEN BETTER. THERE IS HARDLY ANY VALUE FOR MONEY TAKEN. NO TEA ARRANGEMENT IN ROOM. VERY MINIMAL FACILITIES ARE AVAILABLE.
Pros:
Clean and comfortable.
Cons:
Reception was grossly undermanned making for long waits with irritated guests and staff.
FAQs when booking a hotel near Malabo Santa Isabel airport
How much is a cheap hotel near Malabo Santa Isabel airport?
How much is a cheap hotel near Malabo Santa Isabel airport for tonight?
How can I find hotels near Malabo Santa Isabel airport?
Where to stay in Malabo?
Our map will help you find the perfect place to stay close to Malabo Santa Isabel airport by showing you the exact location of each hotel.