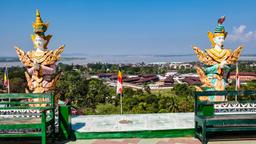 Hotels near Maulmyine airport
Search hundreds of travel sites at once for Maulmyine airport hotels
Best hotels near Maulmyine airport
Based on 221 reviews
All
Families
Young couples
Couples
Groups
Solo travellers
Business travellers
Cleanliness
9.0
Comfort
9.0
Location
7.3
Overall
8.5
Services
8.8
Cleanliness
9.4
Comfort
9.5
Location
7.3
Services
9.3
Staff
9.5
Cleanliness
10.0
Location
6.0
Overall
9.0
Staff
10.0
Value for money
10.0
Cleanliness
9.0
Comfort
8.8
Location
7.2
Services
8.9
Staff
9.3
Cleanliness
8.8
Comfort
8.9
Location
7.6
Services
8.4
Staff
9.4
Cleanliness
8.6
Comfort
9.3
Location
7.5
Overall
8.0
Services
8.5
Cleanliness
6.9
Comfort
8.1
Location
7.5
Services
8.1
Staff
8.4
---
Cons:
2nd stay in ont month...less and less clean. spider web in the room, stained wall, dust everywhere....
Pros:
breakfast on balcony was very nice.
Cons:
I understand covid situation (less customer) but spider web were everywhere on the roof of the bedroom
Pros:
I really enjoyed my stay, super friendly staff, very clean spacious airy room. with good air conditioning. Breakfast was good with a good selection. Within 10 minutes walking are many restaurants, off licence and shops!. Really easy to get taxi's or rikshaw for transport. Lovely and quiet around the hotel. Thanks for the free bike use!
Cons:
I liked everything, some people might say it's a bit far from the centre, didn't bother me and taxi's are super cheap!!
Pros:
Beautiful garden, breakfast and dining area! Attention in details, super helpful staffs! Very quiet, good value for money !
Pros:
Great staff, convenient location and amazing garden.
Cons:
The garden rooms could use a little touch up - the walls were very dirty and could use a fresh layer of paint. Also please be aware that the rooms have millions of mosquitoes in them. The spray provided will not help and there were no mosquito nets, so bring plenty of mosquito repellent.
Pros:
The hotel was beautiful with gardens and great food and service.
Cons:
The location was 15 minutes away from the downtown and the river.
Pros:
good breakfast but more local food .
Pros:
Little paradise, original schedule was 2 nights, however, ended up expanding extra night! Family runs small scale hotel, feels like home! Highly recommended place to stay!
Based on 254 reviews
All
Families
Young couples
Couples
Groups
Solo travellers
Business travellers
Cleanliness
6.3
Comfort
6.2
Location
8.6
Overall
6.8
Services
6.3
Cleanliness
5.9
Comfort
6.6
Location
8.4
Services
5.9
Staff
8.1
Cleanliness
7.0
Location
9.0
Overall
7.5
Staff
9.0
Value for money
8.0
Cleanliness
5.9
Comfort
5.9
Location
8.6
Services
5.9
Staff
8.2
Cleanliness
6.4
Comfort
6.4
Location
8.6
Services
6.4
Staff
8.6
Cleanliness
6.5
Comfort
6.4
Location
8.6
Overall
6.0
Services
6.5
Cleanliness
8.3
Comfort
7.1
Location
8.8
Services
7.5
Staff
8.3
---
Pros:
Nice place nice people Fair price
Pros:
Situated in an atmospheric old Colonial house facing the sea. Convenient for Restaurants Local bars A gym The Colonial Heritage Walk The owners were most helpful and informative.
Cons:
Only one western toilet. The showets were a tad dirty and the water temperature was difficult to adjust.
Pros:
Breeze is run, for the most part, by three older gentlemen. They are really exceptional. Their knowledge of the community is staggering. The service is excellent & they're happy to help you get wherever you're trying to go. The rooms are spartan; but right for the price. The location is ideal.
Cons:
Downside: i don't know why 'quality of guests' isn't included as a ranking category. There are a lot of really dumb ones here. After a few days I started to feel bad for the staff. We're in Mawlamyine, not Phuket. You'd think a higher quality of tourist would be coming thru; more educated, culturally aware, more patient off the beaten path (anon). It was opposite that - a parade of ignorance; day in, day out. Just dumb & helpless, blind & unaware. Always pushy & rude. Demand demand demand; talk way too fast. Demand demand; get what they want, disappear. The one thing they all have in common: they all tack on 'thank you' at the end, like they're all saintly. And soon as one needy tourist flashes thru dumps stress & disappears - another one comes. It was like that all day & every day; a parade of ignorance & helplessness. You know it's bad when even the French & Swiss [!] are whining like children. [If everything is stressful crisis, maybe you shouldn't travel]. I learned an important lesson. In Asia, English is the language of education & sophistication. In Europe, it is the language of spoiled privilege. Like i say, i felt bad for the older gentlemen after a day or two. They speak like 6 languages, between them. They survived Ne Win [!!] They're ardent Buddhists. They know everything about Mawlamyine. They're educated, eloquent elders. They deserve much respect. They're community pillars. The tourists treat them like disposable servants. Also: breakfast is kind of small. If you're a girl, or trying to lose weight it's probably ideal. But if you're trying to walk around & sight see in the heat, you'll be hungry again within in an hour [tops]. The breakfast balcony is sweet tho & they serve everything on fine china.
Based on 9 reviews
All
Couples
Groups
Solo travellers
Business travellers
Cleanliness
6.8
Comfort
5.9
Location
7.3
Overall
6.0
Services
5.0
Cleanliness
5.0
Comfort
5.0
Location
7.5
Services
5.0
Staff
6.3
Cleanliness
7.5
Comfort
7.5
Location
8.8
Services
6.3
Staff
6.3
Cleanliness
6.9
Comfort
5.6
Location
6.9
Services
4.4
Staff
7.5
Cleanliness
6.3
Comfort
5.6
Location
6.3
Services
4.4
Staff
6.3
---
Pros:
The hospitality. Location.
Pros:
I only stayed one night.
Cons:
Dirty headboard in room. Aircon was insufficient to cool room Outside glass atrium had bird droppings Bar area was messy
Pros:
Water is so weak! Nothing around the hotel. Anyway, staff are very good.
Cons:
Nothing at the hotel. Just stay and leave. With this price, please consider about fitness or spa.
Pros:
past its best. better hotels available in town.
Pros:
This is a business hotel and should be rated as such. Booked a Superior Double room was given a big corner room. In fact the size meant that the a/c struggled a bit, but it was just OK. The furnishings were a bit plastic but everything worked. We arrived quite late and needed to eat so ordered up a couple of dishes in the restaurant and these tuned up to be remarkably well put together. The Chinese food had a simplicity, emphasis on correctly cooked vegetables and lack of gloopiness compared to similar dishes in Europe that was quite refreshing. We booked a car to take up around the key sights in the town and then onto Thanbyuzayat and Setse beach. The same car also took us back the Yangon the next day. The hotel looks right out on to the river, great sunset if you get lucky.
Cons:
There is no pool which is a shame because they have the space for it behind the hotel. While the cooked part of the breakfast was good, the remainder was not up to scratch, instant coffee, poor juice, low quality bread.
Cons:
The credit card machine did not work & during check out they asked me to pay by cash . This should have been informed to guest while checkin & it was not . Staff were not apologetic about this .
FAQs when booking a hotel near Maulmyine airport
How much is a cheap hotel near Maulmyine airport?
How much is a cheap hotel near Maulmyine airport for tonight?
How can I find hotels near Maulmyine airport?
Where to stay in Mawlamyine?
Our map will help you find the perfect place to stay close to Maulmyine airport by showing you the exact location of each hotel.