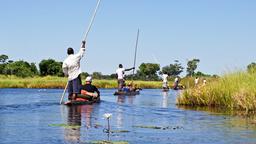 Hotels near Maun airport
Search hundreds of travel sites at once for Maun airport hotels
Best hotels near Maun airport
Based on 223 reviews
Breakfast
10.0
Location
9.7
Service
8.8
Value
8.6
Food
8.1
---
Pros:
The rooms are generally nice enough, it's air conditioned, and the restaurant is ok.
Cons:
There was no conditioner (at all) in the room, the hair dyer was drilled into a drawer, and overall we paid a lot of money for a room that should have been less than half the price.
Pros:
Breakfast was good.
Cons:
Dining at Cresta Riley's was very disappointing. The meat and seafood were not fresh-tasting, and overcooked. The menu's descriptions need to be simplified to convey exactly what is contained in the food. The "light, creamy sauce" for the chef's salad, for example, turned out to be bottled vinaigrette.
Pros:
the breakfast was excellent
Pros:
The place was easy to locate and the staff was friendly.
Cons:
Colour of the towels. I prefer white towels.
Pros:
The location is close to the center of town, and the shops.
Cons:
The suites (bungalows) had alot of windows that did not fully close, and screens with holes in them. Better to get a regular room. The fitness room is small and only has a few machines, with practically no weights.
Pros:
Easy to get to the airport
Pros:
Their breakfast buffet was amazing throughout our stay.
Cons:
The draught which affected the thamalakane river was disappointing. Their pool at cresta Riley's doesn't smell so good,this affected my sinuses .they should consider cleaning the pool with other chemicals like chlorine. Their garden is of poor maintenance
Pros:
Breakfast was a delight with a variety to select frm. Room service was quick and efficient, the food was delicious too. The location was in close proximity to shops if one needed anything. The location of the hotel is just off the road and the scenery beautiful althogh the river is dry, it must be quite a scene when the river is fully flowing as it is by the river side.
Cons:
I had to report the airconditioning in my room 3 times before it was fully addressed. I believe such amanities should be checked regularly to give guest value for their money. I had also made it clear that i am travelling with my daughter and her husband and i had requested a double standard for them but their room was a twin bed. They had to wait for the room to be sorted out, although i must admit it was done immediately and they did apologise for the their error.
Pros:
Location and v friendly staff.
Cons:
It's old and the carpet did not look v clean.
Pros:
Good choice in breakfast buffet. OK restaurant with possibility to eat in the garden.
Cons:
Some staff members were super friendly, some others were not at all helpful and demotivated.
Based on 437 reviews
Location
9.2
Service
7.9
Breakfast
6.9
Room
6.1
WiFi
4.2
---
Cons:
The quality and location of the breakfast was pretty good. I was just taken aback by the price though! 175 Pula for Bacon and Eggs with coffee.!!!!!!! If I knew how, I would send you a pic of the breakfast prices from Wimpy and the Airport Cafe. It ranges from 35 to 65 Pula FOR THE SAME THING... I would rather upgrade my room at a different hotel and eat a less expensive breakfast- very disappointing. The receptionist just shook his head..........
Cons:
lot's of noise during the night, some airco or other machine roaring all night
Cons:
My lovely cabin was next to the water pumps which made a noise all night
Pros:
Dinner and breakfast was good. Waiters friendly and when they did eventually service us, quite helpful
Cons:
Noisy, aircon poor, beds not comfy, pillows and linen poor quality. Long check in with forms and formalities like a border post. Bar staff arrogant.
Pros:
Central and neat and tidy
Based on 57 reviews
Vibe
9.6
Service
7.7
Breakfast
6.7
Room
6.4
Location
6.3
---
Pros:
The STAFF was really LOVELY!! Not only were we taken care of perfectly during breakfast and dinner but on the day we left we took the airport shuttle & asked to be dropped of at a cafe close to the airport for some dinner. Since we had so many bags we would've taken another taxi after food which we told the shuttle driver. To our surprise he came back at the exact time we needed to leave for the airport and drove us there. That's service beyond what someone could ask for. Thank you! The lobby is pretty and offers a fresh water dispenser at all times.
Cons:
The standard rooms are too tiny! It's fine if you travel for work but not enough for a comfortable vacation. (Second Picture below) The suites are nice though and after we upgraded we liked our suite -first picture- (except the dirty sheets we had to return straight away). Another thing that bothered us during our stay was the stingy smell of sewage everywhere. The breakfast was just basic and some things were not refilled (not a good variety of cheese).
Pros:
Luxurious hotel and room
Cons:
Very far out of town, difficult access-road (untarred, dirt-road).
Pros:
The service was exceptional..staff very friendly and helpful. Check in was so easy. Although the hotel is a bit far from city centre its very quiet and peaceful which i really loved and enjoyed....the hotel also offers free shuttle services to city centre
Cons:
The rooms have very little sound proof...can hear water running from next room
Pros:
The lady at the reception was extremely helpful. We were travelling by private airlines flight the next morning and she went out of her way to confirm flight details and make sure that we caught the flight.
Cons:
The service at the hotel restaurant could definitely have been better.
Cons:
beds are too small for 2
Cons:
Slow service and filthy windows in the room. To make room look bigger they had put the shower in the bedroom.
Pros:
Breakfast was very good. The view from the hotel was really good. Hotel was good except that you need taxis to go places since it was isolated from the town and restaurants. The staff at the reception, bar and breakfast were really friendly. Good shuttle and nice driver to the airport. Free shuttle from and to the airport. Buffet dinner was good except that a few of us ordered form the menu and it took more than an hour for our food to be served.
Cons:
The shower being a part of our room surprised us. The toilet was separate. Never seen this in any other hotel in the world. Had to get used to it. Feedback: you should provide a shower curtain for the shower so it doesn't wet the bedroom. Also, water the lawn at night since the water smells badly since it is pumped from the ground since no rain. Water in taps are salty. Had to get used to it.
Where to stay in Maun?
Our Heatmaps tool will help you find the perfect place to stay in Maun by showing you how close hotel options are to major activities