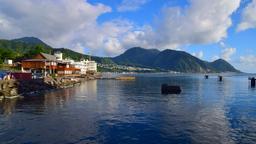 Hotels near Roseau Melville Hall airport
Search hundreds of travel sites at once for Roseau Melville Hall airport hotels
Best hotels near Roseau Melville Hall airport
Based on 56 reviews
Pool
10.0
Amenities
10.0
Comfort
10.0
Service
9.7
Food
9.5
---
Based on 45 reviews
Cleanliness
9.1
Comfort
8.6
Location
8.4
Services
8.2
Staff
9.1
---
Pros:
The friendliness of the property owners!
Cons:
RUDE and ABRUPT owners at reception (mother and son - aka Norman). Checkin took 25 minutes. CREDIT CARDS are NOT accepted. WiFi did NOT work, Paid in CASH and had to ask 3 times for a receipt which was reluctantly and begrudgingly given. Customer service and attitude ZERO. Overall a worse experience could not ever be imagined in a hotel in beautiful Dominica or any where in the world for that matter.
Pros:
Wonderful stay. elvin is awesome, the service is great. He goes above and beyond to make you feel confortable. Thank you!
Pros:
Beautiful well-maintained flowering plants cascading everywhere. Hummingbirds and even a parrot sighting! Elvin was an attentive and gracious host. We hope to return.
Pros:
They we amazing, arrived late, had no place to eat, and they made delicious food for me and insisted that I should not pay for it! Amazing
Pros:
Everything was functional, room had AC, WiFi is good. Dinner is available on request.
Pros:
I only stayed one night during an airport layover. Conveniently located and comfortable - lovely setting. They made dinner for me since there don't seem to be restaurants in the area. They arranged a cab at 5:30 AM for an early flight. I would definitely stay again.
Pros:
Property is amazing! Clean and have a nice location where you can see sunset everyday. Elvin and his family are so helpful! Food was amazing too!
Pros:
Beautiful grand and spacious home impeccably clean and pretty. Surrounded by beautiful gardens of bougainvillea including garden cat quite friendly. Most quiet place ever ...no roosters, barking dogs, traffic. Very elegant with a French touch.
Cons:
Difficult to find but that's because Marigot is steeply hilly and there are few signs. But we asked our rental car company Valley how to get there and she led us to it in her car. Directions being too complicated and she being wonderfully kind
Based on 162 reviews
All reviews
Couples
Families
Location
8.8
Service
8.3
Room
6.7
Breakfast
6.2
Value
4.2
Location
8.8
Service
8.6
Food
8.1
Room
6.8
Breakfast
6.7
Location
8.8
Service
8.3
Food
7.9
Room
5.6
---
Pros:
the friendly staff made us feel welcomed immediately. Nigels is a multi task guy and he is great at it all. he makes a mean margarita. and we had such a wonderful dinner which includes complimentary dessert. the owner was very pleasant and welcoming to all guests during dinner she walked around and greeted us all as if we were family visitin for the night. I was on a week long vacation elsewhere on the island and spent the night before we flew home and if ever back in Dominica I will definitely plan a stay there again
Cons:
my stay was only 1 night. I wanted ro stay another night :-(
Pros:
Super friendly staff! Very helpful! Nice food always freshly cooked! Fair prices for hikes etc. Good chance to meet likeminded travellers. Huge bed!
Cons:
I really liked the location but if you want do to lots of stuff you have to go to or through Roseau which is approximately a one hour drive away. We did not inform us properly so this was a bit of a downside. Close to the airport though! And if you want to go to the city there are lot's of minibusses (take second or third row in the back for the best comfort ;))
Pros:
After a day long journey it was nice not to drive very far from the airport. We were greeted by Ky, checked in, showered and then had a very delicious fish dinner cooked by Nigel. After dinner, two Louisiana guests brought out a fiddle and guitar and we were treated to Cajun music. Needless to say, we fell asleep instantly and slept for 12 hours! Our bungalow was tastefully decorated and comfortable complete with a deck for hanging out. The grounds are beautiful jungle. We liked it so much that we will end our trip there for two nights.
Pros:
Breakfast was a mix of local and traditional, we always enjoy trying local dishes. There was a "make your own" waffles and they tasted great with butter and local jam. Dinner was excellent, a set menu but no complaints from us. Enjoyed swimming in the river pool after a hot day. Nice and refreshing. Staff were amazing.
Cons:
We had asked for a pickup from the ferry terminal but unfortunately something went wrong and no one was waiting for us. It was a small inconvenience, just took one of the local taxis.
Pros:
Very nice view, friendly staff, nice food and drinks :) Owner helped us to organize all trips during our stay on Dominica.
Cons:
Water pressure could be higher but it's still OK.
Pros:
Staff at the accommodation were at all times friendly and helpful, greeting us with smiles and questions. Layout of the property is amazing, with separate cabins close to each other but separated by a discreet wall of vegetation and individual paths.
Cons:
Outdoor lighting is poor, with only main paths illuminated. Individual stairways to cabins are unlit. When we observe the request to switch off unnecessary lights, re-entry in the dark is a challenge. On one night when mains power was off, we made our way using a mobile phone screen. Solar-powered motion-sensed lamps are essential in this environment. Breakfast, served with smiles by the staff, is skimpy. A need for more quantity and variety of fruit, real juices and yoghurts or cheese for substance.
FAQs when booking a hotel near Roseau Melville Hall airport
How much is a cheap hotel near Roseau Melville Hall airport?
How much is a cheap hotel near Roseau Melville Hall airport for tonight?
How can I find hotels near Roseau Melville Hall airport?
Where to stay in Roseau?
Our Heatmaps tool will help you find the perfect place to stay in Roseau by showing you how close hotel options are to major activities