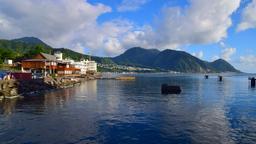 Hotels near Roseau Douglas–Charles airport
Search hundreds of travel sites at once for Roseau Douglas–Charles airport hotels
Best hotels near Roseau Douglas–Charles airport
Based on 42 reviews
All
Families
Young couples
Couples
Groups
Solo travellers
Business travellers
Cleanliness
9.2
Comfort
8.7
Facilities
8.0
Location
8.3
Overall
7.2
Cleanliness
6.3
Comfort
6.3
Location
7.5
Services
6.3
Staff
6.3
Cleanliness
10.0
Comfort
10.0
Facilities
8.0
Location
8.0
Overall
8.0
Cleanliness
9.2
Comfort
8.6
Location
8.3
Services
8.5
Staff
9.5
Cleanliness
9.4
Comfort
9.4
Location
7.5
Services
8.8
Staff
9.4
Cleanliness
9.6
Comfort
8.8
Location
8.7
Services
7.9
Staff
9.0
Cleanliness
10.0
Comfort
10.0
Location
6.3
Services
8.8
Staff
10.0
---
Pros:
The friendliness of the property owners!
Pros:
Wonderful stay. elvin is awesome, the service is great. He goes above and beyond to make you feel confortable. Thank you!
Pros:
Beautiful grand and spacious home impeccably clean and pretty. Surrounded by beautiful gardens of bougainvillea including garden cat quite friendly. Most quiet place ever ...no roosters, barking dogs, traffic. Very elegant with a French touch.
Cons:
Difficult to find but that's because Marigot is steeply hilly and there are few signs. But we asked our rental car company Valley how to get there and she led us to it in her car. Directions being too complicated and she being wonderfully kind
Pros:
Beautiful well-maintained flowering plants cascading everywhere. Hummingbirds and even a parrot sighting! Elvin was an attentive and gracious host. We hope to return.
Pros:
I only stayed one night during an airport layover. Conveniently located and comfortable - lovely setting. They made dinner for me since there don't seem to be restaurants in the area. They arranged a cab at 5:30 AM for an early flight. I would definitely stay again.
Cons:
RUDE and ABRUPT owners at reception (mother and son - aka Norman). Checkin took 25 minutes. CREDIT CARDS are NOT accepted. WiFi did NOT work, Paid in CASH and had to ask 3 times for a receipt which was reluctantly and begrudgingly given. Customer service and attitude ZERO. Overall a worse experience could not ever be imagined in a hotel in beautiful Dominica or any where in the world for that matter.
Pros:
Property is amazing! Clean and have a nice location where you can see sunset everyday. Elvin and his family are so helpful! Food was amazing too!
Pros:
They we amazing, arrived late, had no place to eat, and they made delicious food for me and insisted that I should not pay for it! Amazing
Pros:
Everything was functional, room had AC, WiFi is good. Dinner is available on request.
Based on 143 reviews
All
Families
Mature couples
Couples
Groups
Solo travellers
Business travellers
Cleanliness
7.9
Comfort
7.4
Facilities
6.0
Location
7.8
Overall
9.0
Cleanliness
7.5
Comfort
6.6
Location
7.7
Services
6.6
Staff
8.3
Cleanliness
8.0
Comfort
10.0
Facilities
6.0
Location
10.0
Overall
8.0
Cleanliness
8.1
Comfort
7.7
Location
8.0
Services
7.3
Staff
8.6
Cleanliness
7.9
Comfort
7.2
Location
7.8
Services
6.9
Staff
8.4
Cleanliness
8.1
Comfort
7.5
Location
7.3
Services
6.9
Staff
8.3
Cleanliness
8.5
Comfort
8.0
Location
9.0
Services
8.5
Staff
9.5
---
Cons:
A/c and fan not worked. I booked bed and breakfast but i dont got any breakfast. Its spouse started 7am . I left hotel 7.30am that time also no breakfast.
Pros:
Beautiful and calm location close to the river with amazing hosts. Especially Omari and Nigel made our week!
Pros:
For a authentic island stay I will recommend 100 percent
Cons:
Waking up to the sound of the birds and fresh cold breeze was everything. Staff was spectacular. Breakfast was amazing.
Pros:
Staff was very helpful with every thing also very accommodating. Very eager to serve and listen and provide information willing.
Pros:
IT WAS JUST A NIGH AND I WAS COMFORTABLE
Cons:
EVERYTHING WAS VERY GOOD IN SPITE OF THE TIME CONSTRANIT
Pros:
That place is not for caribbean people The place is very scarery. I will not visit again. No phone in the room No internet No television No rag and soap. Omg it was discussing.
Cons:
I just tell you about it.
Pros:
Great location as far as peacefulness
Pros:
the friendly staff made us feel welcomed immediately. Nigels is a multi task guy and he is great at it all. he makes a mean margarita. and we had such a wonderful dinner which includes complimentary dessert. the owner was very pleasant and welcoming to all guests during dinner she walked around and greeted us all as if we were family visitin for the night. I was on a week long vacation elsewhere on the island and spent the night before we flew home and if ever back in Dominica I will definitely plan a stay there again
Cons:
my stay was only 1 night. I wanted ro stay another night :-(
FAQs when booking a hotel near Roseau Douglas–Charles airport
How much is a cheap hotel near Roseau Douglas–Charles airport?
How much is a cheap hotel near Roseau Douglas–Charles airport for tonight?
How can I find hotels near Roseau Douglas–Charles airport?
Where to stay in Roseau?
Our map will help you find the perfect place to stay close to Roseau Douglas–Charles airport by showing you the exact location of each hotel.