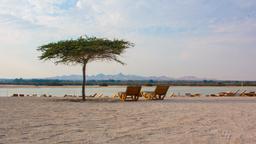 Hotels near Sir Bani Yas Island airport
Search hundreds of travel sites at once for Sir Bani Yas Island airport hotels
Best hotels near Sir Bani Yas Island airport
Based on 390 reviews
All reviews
Couples
Families
Beach
10.0
Vibe
9.5
Service
9.1
Amenities
9.0
Breakfast
8.8
Amenities
9.2
Breakfast
8.9
Service
8.9
Room
8.6
Comfort
8.3
Vibe
9.5
Service
8.9
Amenities
8.7
Comfort
8.6
Room
8.5
---
Pros:
wide variety of different items for breakfast including fresh fruits, nuts, cheese and meat, nice touche with organic honeycomb and chef preparing eggs as you like it; all of these whilst observing wild animals behind the windows; villas have jaccuzzi in which you can chill admiring the nature and gazellas & peacocks comming near to you; comfortable bathtub in spacious bathroom with a big window
Cons:
one of the ferries which you need to take to get to the island is quite old-fashioned
Pros:
Hotel, room, staff, food, all very nice. The Nature drive was amazing
Cons:
Hotel amazing but boat ferry over a disaster. Too windy and they couldn't use the yachts and we had to wait for 4 hours . On the way back, it was the same. They didn't announce the ferry times and then we had to rush to the boat, There was also no information on activities or bike rides etc.
Pros:
Excellent safari & dune horse riding experience. Fantastic location in the middle of the safari park.
Cons:
Atmosphere in the restaurant could be improved with music & lighting etc.
Pros:
It was beautiful, relaxing and tranquil. The staff were attentive. Saif and Gerard were fabulous. Were given a late checkout which helped immensely.
Cons:
Maybe do not go on a safari early in the morning if its foggy. It was extremely cold and it would have been helpful if a blanket was provided to avoid being cold. However it was a nice drive.
Pros:
Outstanding service from all staff members, including other Anantara resorts on the island too. Very relaxing weekend away! Great safari!
Pros:
Superb facilities in the room. Wonderful setting if you like semi wild animals plus. Bush horse ride a rare and unforgettable experience cantering one straightaways and riding up to cheetah and giraffe. Sheikh Zayed had a great vision.
Cons:
Expensive (very). Maybe had we arranged discounts beforehand might have felt better but this is priced much like African safaris and as animals aren't completely wild it's a tough weigh up. Clearly though eco-fying the desert is not cheap so it is hard to blame them.
Pros:
Breakfast was very good - omelet cooking station, good fruit and juices. Peacocks and gazelles roaming around the facility added a great natural touch. Range of facilities was very good. There is something for everyone.
Cons:
The cost of the dinner buffets - very expensive for what you get. The options for dinner not overly clear outside of the buffets.
Based on 475 reviews
All reviews
Families
Couples
Service
9.3
Room
9.0
Comfort
8.8
Vibe
8.7
Amenities
8.5
Service
9.3
Room
8.8
Location
7.9
Food
6.5
Service
9.2
Room
8.9
Location
7.8
---
Pros:
Excellent experience, complete disconnect from the city, great wildlife tour, very tasty food villa onnthe beach was exceptional
Cons:
Price was too high, especially that our 2nd day was at the start of the week. Price can be more reasonable
Pros:
This place is peaceful and natural, reminds me of home, in Africa. The staff were wonderful, from the time we checked in, up to the time we left. We will be back
Based on 789 reviews
All reviews
Families
Couples
Beach
9.3
Breakfast
9.2
Comfort
8.9
Service
8.8
Room
8.6
Beach
9.3
Breakfast
9.1
Service
8.8
Comfort
8.7
Room
8.3
Beach
9.4
Breakfast
9.3
Comfort
9.1
Service
8.9
Location
8.5
---
Pros:
The location, ambience and serenity
Cons:
Food options and cost of it
Pros:
Very nice property with a great wild life experience. Staff are friendly.
Cons:
Food wasn't good and it's expensive. Not worth it.
Pros:
The hotel organize beautiful activities, I would recommend the "fun stables", my kids were amazed. The beach and pool are very nice.
Cons:
I would have liked to see more care for the outdoor furniture in the restaurant and café and window cleaned.
FAQs when booking a hotel near Sir Bani Yas Island airport
How much is a cheap hotel near Sir Bani Yas Island airport?
How much is a cheap hotel near Sir Bani Yas Island airport for tonight?
How can I find hotels near Sir Bani Yas Island airport?
Where to stay in Sir Bani Yas?
Our Heatmaps tool will help you find the perfect place to stay in Sir Bani Yas by showing you how close hotel options are to major activities