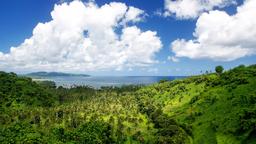 Hotels near Taveuni Island Matei airport
Search hundreds of travel sites at once for Taveuni Island Matei airport hotels
Best hotels near Taveuni Island Matei airport
Based on 49 reviews
Beach
10.0
Service
9.6
Location
9.2
Amenities
8.9
Food
8.0
---
Pros:
My wife and I thought the location was brilliant and the peaceful ambience of a relaxed and yet meticulously cared-for and maintained small resort was wonderful. Great diving, good sites (Rainbow Reef, Great White Wall), lots to see, and very professional dive masters with well-equipped dive boat and dive shop. Food was excellent, presentation impressively professional, and service always friendly and helpful. Lovely management and service team. Our bure was modern, well-equipped, spacious and comfortable, with a great westerly view over the ocean. Enjoyed meeting other interesting guests over meal time too. We loved our time there, and hope to get back.
Cons:
Some very minor issues with internet/mobile connectivity, but being out of reach added to our relaxing holiday experience.
Pros:
Beautiful setting. Fantastic gardens and a wonderful produce garden where they grow a lot of the food, including chickens for eggs and pigs. The staff were great and knowledgeable of the local area. Nice pool and the food was really good.
Cons:
Set up for divers mainly. As we weren't divers it was quite far away from the other attractions in Taveuni. WiFi was terrible and only available in the communal area. There was an option to purchase high speed WiFi that covered the whole resort (which seems a bit stingy seeing as we were already paying handsomely to be there) but we did not really need it, just a more reliable communal WiFi would have done.
Pros:
good diving, great food, friendly staff.
Cons:
Sand into room entrance was undesirable.
Pros:
The food was amazing!!! I loved the curry chicken wrap.
Cons:
Everything was great.
Based on 12 reviews
Food
10.0
Service
10.0
Room
10.0
---
Pros:
It's such an amazing trip to Taveuni!!! The island is 1 hour flight from Nadi, and the resort is 2-minutes drive from the airport. Do was so kindly that arrange everything for us. The food was brilliand, the menu changes every day but is always delicious! I gained much weight there! The resort is located above the seashore, we can see the sea and go down stairs to the sea shore. There're large amount of activities you can take there, but we just fancy in watching the sea and take a nap LOL. What a pity is that I booked cooking class 1 day before but it seemed to be forgotten.......
Cons:
The facilities was not so mordenized, but it's all natural.
Pros:
We absolutely loved our stay here. Firstly, the staff were so nice and friendly. They spoilt us and looked after us really well. We met the owners of the resort also and they were so welcoming. We really appreciated all of the staff. We can't speak highly enough of them. The food was amazing! We paid for all meals to be included during our stay and were so glad that we did. Breakfast, lunch and dinner were all 3 course meals. High quality, fresh produce! We're vegetarian with allergy concerns. They happily catered to our needs. The facilities at the resort are great. Our villa was equipped with everything we needed. It was very spacious with beautiful views of the ocean. The infinity pool was a favourite of ours, especially with the view. Our tour guide, which we booked with the resort was amazing. He looked after us really well during our activities. The rates for activities were very reasonable. And we picked up some gifts at great rates from the boutique shop. Highly recommend coming and staying here! You won't be disappointed.
Cons:
The wifi connection and speed wasn't that reliable. Be prepared for wildlife (frogs, toads, lizards) depending on the season. And also be aware there are pet guard dogs on the property, which are friendly to guests.
Pros:
Gorgeous views. Beautiful layout of the resort
Cons:
Everything was perfect!
Pros:
Taveuni Island Resort is the best holiday resort we have stayed. The owners Vic & Do, along with all of the amazing and beautiful staff make you feel extremely welcome. The food is absolutely beautiful along with the manicured gardens and the bures have everything plus more, the largest we have stayed in. The resort is truly 10/10 - Excellent !!!
Based on 38 reviews
Beach
10.0
Location
10.0
Cleanliness
10.0
Vibe
9.2
Room
8.5
---
Pros:
Everything was good.
Pros:
Food fine. Position fine.
Pros:
The staff was excellent! Great service and a beautiful island resort.
Pros:
The resort is beautiful and boutique and makes your stay very pleasant. The reef snorkelling out the front of the resort is easy and very enjoyable.
Pros:
The location was good.
Cons:
The lack of variety in food. Also the pool being closed most of the time. Staff lacked knowledge about things happening around the place for Christmas such as mass times
Pros:
Staff are the best. Remember your name, what you like and go out of their way to please. Kitchen prepares what you request.
Cons:
No fans in lower level rooms.
FAQs when booking a hotel near Taveuni Island Matei airport
How much is a cheap hotel near Taveuni Island Matei airport?
How much is a cheap hotel near Taveuni Island Matei airport for tonight?
How much is a cheap hotel near Taveuni Island Matei airport for this weekend?
How can I find hotels near Taveuni Island Matei airport?
Where to stay in Taveuni Island?
Our Heatmaps tool will help you find the perfect place to stay in Taveuni Island by showing you how close hotel options are to major activities