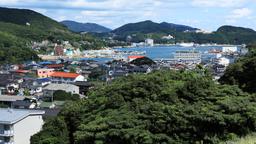 Hotels near Tsushima airport
Search hundreds of travel sites at once for Tsushima airport hotels
Best hotels near Tsushima airport
Based on 102 reviews
All
Families
Couples
Groups
Solo travellers
Business travellers
Cleanliness
9.3
Comfort
9.2
Location
8.9
Overall
6.6
Services
9.1
Cleanliness
9.3
Comfort
9.2
Location
8.7
Services
9.2
Staff
9.2
Cleanliness
9.7
Comfort
9.1
Location
9.3
Services
9.1
Staff
9.2
Cleanliness
9.6
Comfort
9.8
Location
9.4
Services
9.5
Staff
9.1
Cleanliness
9.3
Comfort
9.1
Location
9.1
Overall
9.0
Services
8.9
Cleanliness
9.5
Comfort
9.0
Location
8.8
Services
8.0
Staff
9.0
---
Pros:
It was super cosy and I wasn't expecting a temple to be that modern.
Pros:
Located in the heart of Izuhara town, close to Izuhara port, Banshoin temple and Shimizuyama castle ruin. You can enjoy staying at Budist temple with "Zazen" experience.
Pros:
Excellent location, delicious & healthful breakfast, beautiful & serene atmosphere, spacious room with a lovely balcony.
Pros:
This is an accommodation wing integrated into a Buddhist temple, so, effectively, you are staying on temple grounds, which are serene, kempt and beautiful. The hospitality was excellent. We were very politely welcomed and had our bags taken up the four flights of stairs to our room. The room looked like it had been recently built, was spacious, with a high ceiling, and had pretty much all the facilities you'd expect at any medium- to high-class hotel, including air conditioner. The view from our room was great, and there was a pond on the other side. Everything was spotlessly clean, and the soundproofing between our room and the adjacent one was excellent. Our room came with its own unit bathroom/toilet, but there was also a Japanese-style bathroom on our floor for a nice relaxed bathing experience soaking in a hot pool. The parking lot is next door to the hotel and costs 300 yen per night.
Cons:
We were okay with all the stairs, but that could be a problem for some. It wasn't exactly cheap, so we considered it only JUST value for money. No iron/ironing board.
Pros:
This was one of the best places I have ever stayed in. The building itself is very cool, because it is a temple on the outside but very modern and clean on the inside. The hardwood floors are practically glowing and the wooden interior gives of a sense of calm. The room was spacious and clean, with a view over the temple and the harbour. The Japanese style breakfast was very tasty and beautiful. The bed was the most comfortable I have ever slept in. I strongly recommend this place.
Pros:
It's beautiful, peaceful and calm location. Every corner of this guesthouse is lovely decorated and it just has this relaxing atmosphere. The breakfast is great as well.
Based on 26 reviews
All
Families with young children
Young couples
Solo travellers
Cleanliness
8.6
Facilities
8.8
Food
9.1
Location
9.0
Overall
8.7
Cleanliness
10.0
Facilities
8.2
Food
9.2
Location
10.0
Overall
10.0
Cleanliness
9.6
Facilities
8.7
Food
9.2
Location
9.6
Overall
9.1
Cleanliness
8.7
Facilities
8.9
Food
9.0
Location
9.6
Overall
9.1
---
Based on 78 reviews
All
Families
Couples
Groups
Solo travellers
Business travellers
Cleanliness
7.8
Comfort
7.9
Location
7.0
Services
7.5
Staff
7.9
Cleanliness
7.6
Comfort
7.6
Location
6.8
Services
7.2
Staff
7.8
Cleanliness
8.1
Comfort
8.3
Location
8.1
Services
7.9
Staff
8.1
Cleanliness
8.1
Comfort
8.3
Location
7.1
Services
8.1
Staff
7.9
Cleanliness
7.5
Comfort
7.5
Location
6.3
Services
7.1
Staff
7.5
Cleanliness
10.0
Comfort
10.0
Location
10.0
Services
10.0
Staff
10.0
---
FAQs when booking a hotel near Tsushima airport
How much is a cheap hotel near Tsushima airport?
How much is a cheap hotel near Tsushima airport for tonight?
How can I find hotels near Tsushima airport?
Where to stay in Tsushima?
Our map will help you find the perfect place to stay close to Tsushima airport by showing you the exact location of each hotel.