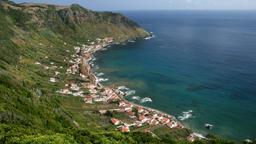 Hotels near Vila do Porto Santa Maria airport
Search hundreds of travel sites at once for Vila do Porto Santa Maria airport hotels
Best hotels near Vila do Porto Santa Maria airport
Based on 463 reviews
Amenities
9.4
Value
9.4
Pool
9.3
Location
9.3
Service
9.2
Pool
9.4
Amenities
9.3
Cleanliness
9.2
Service
9.2
Location
9.0
Amenities
9.5
Location
9.4
Service
9.2
Cleanliness
9.0
Pool
8.9
---
Pros:
Very good youth hostel. Lot of equipment (leaving rooms, kitchen, swimming pool). Cleaning is done everyday. Check in and out are easy as there is always someone at the reception.
Cons:
Maybe not enough shower cabins when the hostel is full but it is a detail and quite common in youth hostels.
Pros:
The pool was very nice
Pros:
It was in a beautiful place on a lovely island
Pros:
Location (although a bit noisy from the street), pool. For a youth hostel its ok, and good value.
Cons:
Noise. Breakfast choice could be better. Room design is quite bare.
Pros:
Incredibly clean and tidy. Staff very friendly. Rooms basic but exremly comfortable. Great pool . And large common room. Overall one of the best hostels I've stayed in
Cons:
Nothing. Everything was good
Based on 102 reviews
Service
8.4
Room
8.3
Cleanliness
8.3
Food
6.8
Location
6.8
Service
8.7
Room
7.9
Location
7.2
Breakfast
5.3
---
Pros:
Close to good restaurants, easy parking, close to everything, friendly, nice staff. Nice clean pool, bird of paradise flowers(!!!) And good Wi-Fi.
Cons:
No small table and chairs on patio, no available microwave. Breakfast bacon was not cooked, much too raw to eat.
Pros:
Close to the airport with a shuttle service to he airport. Good air conditioning. Large, clean rooms.
Cons:
Outside space by the pool not well maintained? No shuttle service to town, restaurant under staffed.
Pros:
Comfortable, spacious, clean room, reception staff really nice and helpful.
Cons:
There was poor choice for breakfast.
Pros:
Great location very close to the airport. The rooms are very big and spacious and very clean. The food for breakfast, lunch and dinner were really good and not expensive. The pool was clean and big. Well done and keep the excellent work. They made our 2 day stay there excellent.
Pros:
Excellent location in walking distance from the airport but quiet and with pastures behind the house. To reach the town, it's about 30 min on foot or 5 min by taxi (6 Euro).
Cons:
Breakfast is good but it would be nice to get rid of the noisy fridge in the breakfast room, which somehow spoilt the atmosphere.
Based on 220 reviews
All reviews
Families
Couples
WiFi
10.0
Pool
8.5
Breakfast
8.3
Cleanliness
7.0
Room
6.6
Pool
8.5
Breakfast
8.5
Room
6.2
Service
6.2
Comfort
5.8
Pool
8.5
Breakfast
8.1
Comfort
6.5
Service
6.4
Room
6.3
---
Pros:
Beautiful hotel overlooking the ocean. The hotel has an a,\mazing pool for you to lounge and relax while enjoying th views.
Cons:
The hotel was old and dated, with uncomfortable beds, and a shower that not great. The location was terrible - not within easy walking distance of any restaurants or bars - a rental car is a must to get around. The bed was two twins pushed together (i.e. small) and were uncomfortable. The wifi worked and was serviceable. Breakfast was not good - we went into town after the first day. We ate dinner at the hotel "bar" and it was not very good. Very uncomfortable seating, boring atmosphere, poorly laid out, with furniture from the 1970's. It was expensive compared to much better places in town.
Cons:
No hot water and television not working in room for 2 nights. Very old plastic patio chair in room.
Pros:
The room itself was clean and nice.
Cons:
Overall the hotel was pretty outdated, you could clearly see that it used to be a very nice hotel, but the maintenance could have been better. Also the breakfast could have been ok, if they would simply keep the buffet filled. If you are not joining in at the start of the breakfast and some things are gone from the buffet already, well that's a pity because it's not coming back! So mainly there was to little effort put in everything.
Pros:
THE COMFORT AND LOCATION
Cons:
BREAKFAST WAS GOOD, JUST A COUPLE OF MORNINGS THE SCRAMBLED EGGS WAS COLD
Pros:
The one huge positive was the air conditioning in the hotel room. We slept much better with being able to have a cool room. The bed was okay, but still a bit hard for what we are used to. We are finding that hard beds are the normal. Since the hotel was out of town, it was nice to have breakfast provided and a bar to get food, coffee and drinks.
Cons:
It was not convenient to town. We had to take a taxi or walk along the highway for over 20 minutes. Just be aware if you stay here, it sits on a hill all by itself with nothing else around.
Pros:
Great location with nice views. Breakfast was quite good. Overall a good place to stay in Santa Maria.
Cons:
Some areas of the hotel need a little attention.
Pros:
The Colombo Hotel it's a paradise on earth. It's a perfect place to spend holidays. All the Colombo Hotel Staff, they are very friendly and they were always ready to help me. They provided me an excellent airport transfer service. All the Colombo Hotel is always sparkling clean and the Azorean breakfast was delicious. Thanks so much Colombo Hotel.
FAQs when booking a hotel near Vila do Porto Santa Maria airport
How much is a cheap hotel near Vila do Porto Santa Maria airport?
How much is a cheap hotel near Vila do Porto Santa Maria airport for tonight?
How can I find hotels near Vila do Porto Santa Maria airport?
Where to stay in Vila do Porto?
Our Heatmaps tool will help you find the perfect place to stay in Vila do Porto by showing you how close hotel options are to major activities