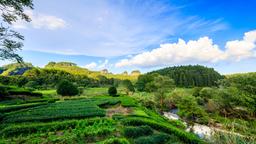 Hotels near Wuyishan airport
Search hundreds of travel sites at once for Wuyishan airport hotels
Best hotels near Wuyishan airport
Based on 170 reviews
All reviews
Families
Business
Vibe
10.0
Value
9.9
Amenities
9.7
Cleanliness
9.7
Service
9.2
Vibe
10.0
Value
9.9
Cleanliness
9.8
Amenities
9.6
Service
9.3
Cleanliness
9.5
Service
9.3
Location
9.0
Room
8.4
---
Based on 30 reviews
Cleanliness
9.4
Comfort
9.2
Location
8.9
Services
9.1
Staff
9.4
---
Pros:
The food was excellent. The staff was really hepfull and very nice. Our room was perfect.
Cons:
We didn't like to leave this peacefull place.
Pros:
This hotel is one of the best in the area and a wonderful base from which to explore the wonders of Wuyishan. The architecture is modern but inspired by traditional Chinese buildings and a lot of care has been put into the creation of a peaceful and harmonious ambience, mirroring the area. As would be expected from a hotel with the name Dahongpao, there is a strong emphasis on tea- one is enveloped by the fragrant scent of the epynomous brew as soon as one enters the main reception. The service was very attentive and the attention to detail from the staff and management was impressive. I shall definitely return here when I next visit Wuyishan.
Pros:
All of the staff were very welcoming and the service was excellent and efficient. The chef's selection on the menu was absolutely delicious. The resort is conveniently located yet isolated enough to fully enjoy the natural surroundings - the Wuyi Mountains are nothing short of spectacular. The scenery around the resort is beautiful and serene. The balcony looks out onto a lake with plentiful ducks and geese. The indoor swimming pools are clean and modern. HBO is available. Great value for money!
Pros:
the environment were good
Cons:
the sign going to hotel still need more detail
Pros:
Very friendly and helpfull, very convienient in a beautifull surrounding! They booked for us the bambooraft trip. There is a very nice swimmingpool
Pros:
The hotel is in a nice & calm environment, in the nature. 5-10 min by car from the south entrance of the parc Wuyishan. Rooms are big, bed comfy. Like in the pictures provided on booking. They provide local tea leaves in the room. They arranged transfer from the train station at last minute call. The staff is really helpful. The guest manager Xiao Li provided lots of advices for the visit of natural park and also booked the bamboo rafting. Even the cleaning lady Yun washed my kid's pajamas. The reception guy Xiao arranged transfer to the parc. Great stay!
Cons:
Even if they have a wonderful swimming pool area, the water was cold for my kids. Like all the hotels in China
FAQs when booking a hotel near Wuyishan airport
How can I find hotels near Wuyishan airport?
Where to stay in Wuyishan?
Our Heatmaps tool will help you find the perfect place to stay in Wuyishan by showing you how close hotel options are to major activities