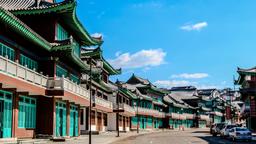 Hotels near Yanji airport
Search hundreds of travel sites at once for Yanji airport hotels
Best hotels near Yanji airport
Based on 45 reviews
All
Families
Couples
Groups
Solo travellers
Business travellers
Cleanliness
8.2
Comfort
8.2
Location
9.1
Overall
7.0
Services
8.1
Cleanliness
7.9
Comfort
8.1
Location
9.3
Services
7.6
Staff
8.9
Cleanliness
9.4
Comfort
8.8
Location
9.4
Services
8.8
Staff
9.4
Cleanliness
8.1
Comfort
8.1
Location
9.4
Services
9.4
Staff
8.8
Cleanliness
8.2
Comfort
8.3
Location
9.0
Services
8.1
Staff
8.2
Cleanliness
7.5
Comfort
7.7
Location
8.8
Services
8.1
Staff
8.3
---
Pros:
The staff go out of the way to make the stay comfortable. 1. We found the initial room assignment a bit warm, they immediately sent a staff member to let us check other rooms where we felt comfortable. 2. The reception staff made good recommendations on where to eat. 3. The breakfast staff went out of their way to ensure our requests were met.
Pros:
Excellent breakfast buffet with a lot of choices between Chinese and Korean dishes. Very supportive staff.
Pros:
I was expecting the room condition to be outdated as it has quite a bit of history to it. It turnt out better than I had expected. The location was ideal as the main river across the city is just right behind the hotel. It's quite scenic at night. The only shopping mall in the city is also accessible by foot.
Cons:
The bellboy could have been more alert. I was pulling several bags on my own but the staff did not offer any assistance despite being in front of me. Overall the staff are still friendly and helpful
Pros:
I like their front desk and concierge services provided. Very helpful and polite.
Cons:
As our unit is right at the end where lift is situated, people tend to smoke near the lift.
Based on 3 reviews
All
Groups
Solo travellers
Business travellers
Cleanliness
5.8
Comfort
6.7
Location
8.3
Services
6.7
Staff
6.7
Cleanliness
7.5
Comfort
7.5
Location
10.0
Services
7.5
Staff
7.5
Cleanliness
5.0
Comfort
6.3
Location
7.5
Services
6.3
Staff
6.3
Cleanliness
5.0
Comfort
6.3
Location
8.8
Services
6.3
Staff
6.3
---
Cons:
They need to have at one English speaking person at the front desk.
FAQs when booking a hotel near Yanji airport
How much is a cheap hotel near Yanji airport?
How can I find hotels near Yanji airport?
Where to stay in Yanji?
Our map will help you find the perfect place to stay close to Yanji airport by showing you the exact location of each hotel.