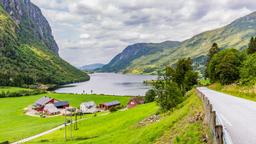 Hotels near Førde Bringeland airport
Search hundreds of travel sites at once for Førde Bringeland airport hotels
Best hotels near Førde Bringeland airport
Based on 192 reviews
All
Families
Couples
Groups
Solo travellers
Business travellers
Cleanliness
8.7
Comfort
8.1
Location
7.8
Services
8.1
Staff
9.2
Cleanliness
8.6
Comfort
8.1
Location
7.8
Services
8.2
Staff
9.2
Cleanliness
8.5
Comfort
7.9
Location
7.8
Services
7.7
Staff
9.2
Cleanliness
9.0
Comfort
8.3
Location
7.6
Services
8.7
Staff
9.4
Cleanliness
9.0
Comfort
8.6
Location
8.2
Services
8.1
Staff
9.6
Cleanliness
9.2
Comfort
7.5
Location
6.7
Services
6.7
Staff
9.2
---
Pros:
Despite late arrival, we easily checked in. Quiet place, well-furnished rooms, comfortable beds.
Cons:
Bathroom is very small. Breakfast could be a bit more various with more hot and healthy food.
Pros:
Nice kitchenette in each wing with a comfy sofa set and TV.
Pros:
Simple but functional. Decent breakfast and very friendly and helpful staff. Nothing special, just spot on Ok if you're passing by and looking for a night to stay.
Cons:
It's functional and good, but not much to do in the surrounding. Not a disappointment as we were used this to stay 1 night.
Pros:
Very good breakfast, facilities like billiard room and training centre are free to use for the guests. Kitchens in each floor if you want to prepare meals yourself. Good value for the price.
Pros:
Quiet, great value for the money.
Based on 554 reviews
All
Families
Couples
Groups
Solo travellers
Business travellers
Cleanliness
8.2
Comfort
8.1
Location
8.5
Services
7.7
Staff
8.3
Cleanliness
7.9
Comfort
7.9
Location
8.1
Services
7.4
Staff
8.2
Cleanliness
8.1
Comfort
8.1
Location
8.3
Services
7.6
Staff
8.4
Cleanliness
8.4
Comfort
8.1
Location
8.8
Services
8.0
Staff
8.5
Cleanliness
8.5
Comfort
8.6
Location
9.0
Services
8.3
Staff
8.4
Cleanliness
8.4
Comfort
8.3
Location
9.0
Services
8.2
Staff
8.5
---
Cons:
Wrong pictures in booking. Much dust everywhere. No information that is going under construction.
Pros:
Breakfast very good!
Pros:
Good town centre location
Cons:
Building works and no access to rear of property where we stayed until 10 am meant long walks to the front to take dog for walks and get to the car which was only yards away from our room
Pros:
Central location for town but with no noise issues from traffic or people. Good breakfast and clean quiet room. Easy to find and free parking on site a real bonus in expensive Norway!
Cons:
Due to coronavirus spa not operating and only meal served was breakfast. This is the only reason score marked down from normal. Extensive renovations of conference facilities meant that major work was ongoing on the hotel frontage detracting from initial impression. To be fair the work did not create any issues during our stay.
Pros:
The beds were of high quality (Jensen beds). Easy and convenient parking. Breakfast.
Cons:
The cushions were so thin, it basically was the linnen with no filling. Location is in a village that is very boring! Especially on a Sunday when the scarce shops are closed.
Pros:
Lovely atmosphere, friendly staff, modern bathroom facilities, very comfy beds, great breakfast, fast/stable WiFi, calm area. Free and spacey parking,
FAQs when booking a hotel near Førde Bringeland airport
How much is a cheap hotel near Førde Bringeland airport?
How much is a cheap hotel near Førde Bringeland airport for tonight?
How can I find hotels near Førde Bringeland airport?
Where to stay in Førde?
Our map will help you find the perfect place to stay close to Førde Bringeland airport by showing you the exact location of each hotel.