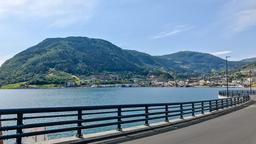 Hotels near Sogndal Haukasen airport
Search hundreds of travel sites at once for Sogndal Haukasen airport hotels
Best hotels near Sogndal Haukasen airport
Based on 779 reviews
All reviews
Couples
Families
Solo
Service
9.4
Room
8.1
Location
8.1
Breakfast
7.7
Comfort
7.3
Service
9.4
Room
8.0
Breakfast
7.9
Location
7.8
Comfort
7.2
Location
8.3
Room
7.6
Breakfast
7.6
Comfort
7.3
Service
9.4
Location
8.4
Room
7.8
Breakfast
7.8
---
Pros:
Location was fantastic - close to the bus station and ferry quay. It's a beautiful hotel decorated from a bygone era which we loved. The staff were friendly and helpful. We enjoyed the buffet dinner which was lovely despite the limited choice. Our room was fabulous - view of the city at night over the hills, spacious, superbly comfortable bed and beautifully decorated. We had an early ferry to catch so required earlier breakfast which the hotel accommodated. We were really happy with everything.
Cons:
The hot water in the shower took ages to come through and ran out. It was on the upper end of what I would have expected to pay for a hotel in this location.
Pros:
The room felt super clean.
Cons:
It was alittle overpriced compared to more modern hotels that offered a gym and a better range for breakfast. Eg Thon Hotels in Skei
Pros:
Very nice cosy hotel with very good location.Old English style,with beautiful atmosphere.Perfectly delicious breakfast,like at home.Perfectly comfy beds and bed linen,that is fantastic after full day of hiking.Very nice helpful staff and owners.Good WiFi.Absolutely recommended,best hotel in beautiful Sogndal for sure.Will come back! Thank you! =)
Pros:
This hotel looks like it's stuck in the 70's but in a good way. I didn't mind the feel it had to it and actually liked it. The elevator, the lobby, the room, everything felt nostalgic. Location is right next to the fjord, and great for an evening walk.
Cons:
Breakfast was pretty poor, especially compared to other BW's around the world. No omelettes, no scrambled eggs, no baked goods. Parking area next to hotel is public, and costs extra.
Cons:
Old school hotel, english style, clean, cheap, excellent beds, and quiet. Great stay.
Pros:
Location of ferry to Bergen was less than a five minute walk. The rooms & lobby were old world charm. Loved the comfortable bedding.
Cons:
Unfortunately, breakfast was late in opening & we had to grab a quick bite before heading to the early ferry. Didn't see or taste all that was available.
Cons:
The Hotel's parking lot becomes a public parking in the morning and they ticket the car in no time. The reception does not informs the guest about it
Based on 288 reviews
Service
9.5
Location
9.4
Cleanliness
8.9
Pool
7.5
Room
7.4
Location
9.5
Service
9.5
Room
7.3
Breakfast
6.1
Vibe
6.0
---
Pros:
The view, nice staff and they made an effort to fix breakfast at check in that was in line with corona guidelines and what we wanted. They also upgraded our room.
Pros:
Great view of the fjord. Very nice staff.
Cons:
Every hotel one of our hotels in Norway had coffee for guests when we arrived......Upon checking in my husband asked for two cups of coffee and the gentleman said " Sure, no problem". He returned and said "I will add this to your bill." My husband was so surprised he said nothing and returned to our room.... we feel paying $180.00 a night is worth two " free" cups of coffee. The hotel is in need of refurbishing. It has an odd floor plan. You have to walk a very long way up and down several steps to any room and carry suitcases long distances. The location is the only thing that sells the hotel. It is located right in the fjord.
Pros:
Cozzy Hotel! It's like being at home. And the staff was very friendly. Nice views to the Fiord. You can take a boat for free. Everything was so nice !!
Pros:
The location on the fjord. The restaurant near by, "Malin" which was recommended by the receptionist.
Cons:
The weather was warm, we had to keep the balcony door open because the window could not be opened. The neighbors in a room nearby chatted loudly in their balcony until late.
Pros:
We had a large private balcony with giant sliding glass doors. The washroom was newly renovated. The view of the fjord was incredible.
Cons:
No elevator. Plenty of stairs to carry our heavy luggage up and down.
Pros:
Very nice hotel (historic over 100 yrs old). People were very good. We like it very much!
Based on 749 reviews
All reviews
Families
Couples
Solo
Breakfast
9.1
Food
9.1
Service
8.6
Location
7.5
Vibe
7.2
Food
9.3
Breakfast
9.3
Service
8.6
Location
8.0
Vibe
6.9
Breakfast
9.1
Food
8.9
Service
8.7
Location
7.3
Vibe
6.6
---
Pros:
Everything was good! An excellent stay. We liked that everything was prepared and ready. The rooms are very clean and comfortable. We had dinner at the Italian restaurant- great food with great service! Breakfast spread was good.
Pros:
Breakfast was pretty good in terms of variety. Room size was decent. Room had a fridge, which appears to be a rarity in Norway. Staff was helpful.
Cons:
Even though our room was refurbished, it was quite obvious that it is an old build, and the redecoration wasn't the nicest job I've seen. As a result, the room had a weird vibe - the door was from another era, in the bathroom, the drain on the floor was halway under the bath (looked like a proper Eastern European home-made fix), the fridge was in the middle of the room, the sofa and the table didn't really match, sink was a really inconvenient design, etc. From the outside of the building it appears that we got a room in the oldest part of the hotel that was enlarged later on with new, more modern wings, so this description is only valid for the minority of the rooms. Overall, we had a pleasant stay for a night, and the strange room features were not much of a turn-off, just a bit, well, strange (being from a former Eastern bloc country, I'm susceptible to recognizing refurbished but outdated hotels). Would not call it good value, although I understand that Norwegian prices are of another world.
Pros:
New room, very nicely designed
Cons:
Storage should be added to the visitor's equipment
Pros:
We had to leave very early so they packed a couple of breakfast boxes for us.
Cons:
Bed not very comfortable
Pros:
Very nice hotel front desk.
Cons:
Lighting in the rooms was a bit dark.
Pros:
Big room with modern equipment and some "smart home" applications!
Cons:
Poor quality of ingredients in breakfast
FAQs when booking a hotel near Sogndal Haukasen airport
How much is a cheap hotel near Sogndal Haukasen airport?
How much is a cheap hotel near Sogndal Haukasen airport for tonight?
How much is a cheap hotel near Sogndal Haukasen airport for this weekend?
How can I find hotels near Sogndal Haukasen airport?
Where to stay in Sogndal?
Our Heatmaps tool will help you find the perfect place to stay in Sogndal by showing you how close hotel options are to major activities