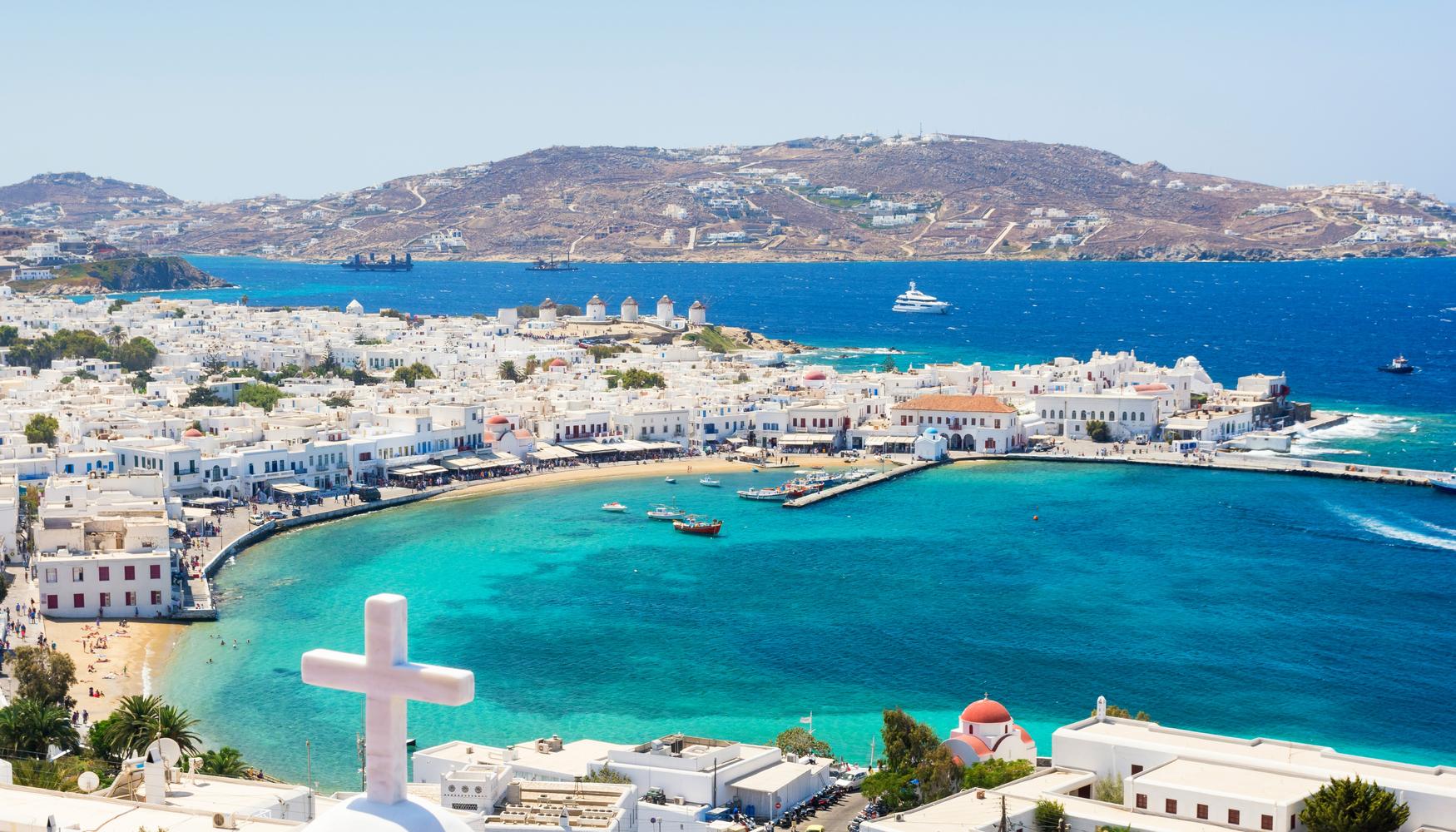 You're Going to Love Naxos
Chora or Naxos City is the capital of Naxos, the largest of the Cyclades group of islands in the blue Aegean Sea off mainland Greece. It's a laid-back tourist paradise, with a history to discover that begins in mythical times, beautiful beaches to savor and picturesque towns and villages to wander through. The island's rich agricultural lands and a varied landscape that includes mountains and forests fuel a delectable local cuisine, including wines and spirits that are worthy of the most demanding foodie.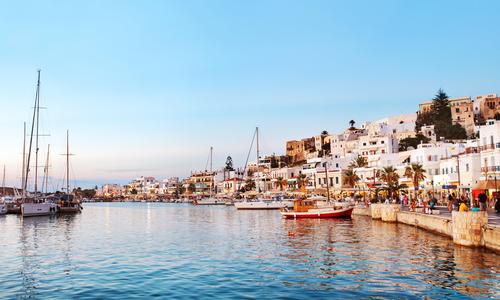 Top 5 Reasons to Visit Naxos
1. Gorgeous Beaches
Relax and enjoy the sun, clear waters and soft sands that characterize the beaches of the island, including popular sites like the Agios Prokopios, Mikri Vigla and Plaka beaches.
2. Watersports
Naxos offers world-class windsurfing along the western shore and superb offshore diving, allowing you to explore in the Aegean waters surrounding the island, including caves, shipwrecks and more.
3. Explore Mythical History
In Greek mythology, Naxos is where the god Zeus was born, and the island has been inhabited since the Neolithic era. There are thousands of years of history to discover, from monuments like the iconic 6th century Portara marble gate to museums, ruins, medieval churches and more.
4. Delicious Local Cuisine
Naxos is known for its agriculture and earns as much from this as from tourism, resulting in a rich, classic Greek cuisine based on locally raised meats, fish and other seafood, along with olives, figs, herbs and other fruits and vegetables.
5. Charming Villages and Nature Walks
The island is home to charming villages like Apiranthos, with the area's characteristic whitewashed buildings that are set in a mountainous area with lush woods for hiking and picnics.
When to Visit Naxos
Naxos is a year-round destination with mild winters, that only dip to about 55°F, and warm summers that hover around 80°F between June and August.
How to Get to Naxos
Plane
Naxos Island National Airport (JNX) is a regional airport, located about 1.2 miles from Chora. While international flights are not available, there are daily flights to Athens, with connections worldwide. A taxi from the airport to Naxos City costs about EUR35.
Train
There is no train service to the island.
Car
A combination of car and ferry service is available to Naxos from a variety of centers, including Mykonos and Santorini.
Bus
There is no bus service to Naxos. However, it is possible to take a bus to Thessaloniki and then get a ferry connection to the island.
Airlines serving Naxos
Show more
Where to Stay in Naxos
Stay in a convenient location with modern convenience at the Xenia hotel in Naxos Town, close to the beach and historic sites like the Venetian Castle. Aeolis Naxos puts you right at the Saint George beach in contemporary luxury.
Popular Neighborhoods in Naxos
Kastro - this is the oldest part of Chora, with winding cobblestone streets and protected by walls made under the Venetian rulers during the Middle Ages.
Saint George Beach - this is the main beach area just southwest of Chora, with its own scene of casual cafes and restaurants and still within walking distance of the town itself.
Plaka Beach - this area to the south of Naxos City is where you'll find a string of beaches and enchanting villages that are within biking distance, meaning you can reach them even if you don't have access to a car.
Where to stay in popular areas of Naxos
Most booked hotels in Naxos
How to Get Around Naxos
Public Transportation
Bus service on the island is provided by a company called KTEL, with routes that crisscross Naxos. Fares vary by destination.
Taxi
Taxis are reasonably plentiful on the island and must be reserved in advance. A trip from Chora to Agios Prokopios, south of the city along the beach, costs about EUR12.
Car
A car rental is a good way to explore the island. Car rentals from the airport are available starting at about EUR50.
The Cost of Living in Naxos
Shopping Streets
Kastro, the old walled city in Chora, is where you will find many charming shops with local goods and souvenirs. You'll also find small local shopping areas in most towns along the beach, such as in Agios Prokopios and Plaka.
Groceries and Other
Atlantik, Vidalis and Koutelieris are the three largest supermarkets in Naxos City. A gallon of milk costs about EUR3.80 and a dozen eggs about EUR2.
Where to Eat in Naxos
Eat local organic goodness and classic Mediterranean dishes at Axiotissa, located on the road from Naxos City to Alyko, where a three-course menu starts at EUR23. Enjoy traditional meat platters at Sto Ladoharto near the Chora port, where main dishes start at EUR16.