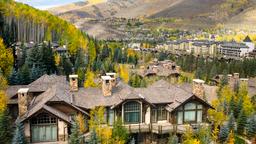 Hotels near Vail Eagle County airport
Search hundreds of travel sites at once for Vail Eagle County airport hotels
Best hotels near Vail Eagle County airport
Based on 192 reviews
Cleanliness
8.8
Comfort
8.6
Location
8.9
Services
8.1
Staff
9.0
---
Cons:
Dated furniture...could use some renovation.
Pros:
The view from out front is great. The location is quiet and easy to find.
Pros:
Rooms were very comfortable; breakfast was great, too!
Pros:
It was extremely Clean
Pros:
Hotel was clean and located close to major highway. Was located nicely between denver airport and aspen.
Pros:
The staff was friendly and helpful, the hotel is in a convenient area close to the interstate.
Cons:
The room was barely even surface clean. The sheet that was on the outside of the bed covering the bed spread had what appeared to be fresh blood on it. The bathroom wall by the baseboard was in desperate need of cleaning. Possible blood on ceiling.
Pros:
It's been updated. Bathroom/shower is nice. Toilet is loud though.
Cons:
The hot tub was not operational a anticipated/expected.
Pros:
Staff was very pleasant
Cons:
The pool and spa were broken, which was a main reason why we booked the place
Pros:
Out of busy traffic good walking distance to thing u need
Cons:
Not many parking spots when big moving trucks park
Pros:
Room, breakfast, parking, etc
Cons:
It could be closer to a ski resort
Pros:
They had an wonderful breakfast. Very satisfied. Better than expected.
Cons:
Pool and hot tub both broken. :(
Pros:
Location, clean, price
Cons:
Loud furnace fan, ran for 30 seconds at a time, then off for 2 minutes, Asked for repair or new room- were denied room. Fix only made it run continuously. Will never stay here again.
Based on 746 reviews
All reviews
Families
Couples
Breakfast
9.4
Location
9.2
Wellness Area
9.1
Pool
9.0
Service
8.8
Breakfast
9.4
Location
9.3
Pool
9.0
Wellness Area
9.0
Service
8.8
---
Pros:
Friendly staff, convenient location and a great breakfast!
Pros:
The location was good. Room was pretty clean.
Cons:
The bed and pillows were very uncomfortable! The girl at the front desk hardly said a word to us when checking in. The breakfast was bad with stale donuts, cold scrambled eggs and no forks to be found (& no attendant). Tables were sticky!!
Pros:
Overall I had a great stay and Eagle was in close proximity to a lot of my plans I had set for the week. I had an issue with payment when I first arrived and both of the cards used to make the reservation were charged double. Although the issue took a few business days to resolve I was given a refund of 20% and a free night stay while I was there due to the inconveniences. Overall amazing service I will return.
Pros:
it was conveniently located. they allowed a late check out
Cons:
the room smelled of pets, caged pets. stale. the refrigerator did not really work for the price of the room, expected more.
Pros:
Great location, easy access to I-70.
Pros:
Everything from checking in to breakfast being served earlier than scheduled with several people taking advantage of it!! the night front desk attendant and had hot coffee ready by 5AM.What an awesome guy! Good coffee too!!
Pros:
Breakfast was great! The size of the rooms was nice. It was quiet.
Cons:
We were first given a room with a great view but it didn't meet our requirements stated in the reservation details. We were moved across the hall with a much worse view. We were right by the stairs and elevator and it was a little noisy.
Pros:
friendly staff, suite was very roomy for our group
Cons:
nope, met all expectations
Pros:
I forgot my tablet and a book in the room and when I called the hotel, Danielle was great to work with. She couldn't find it but explained it was probably locked up in housekeeping so she had to inquire the next day. She called me first thing in the morning and offered to send it right out. Thanks to all for your honesty and helpfulness!
Pros:
New. Clean. Staff friendly and helped out to print some last minute documents.
Pros:
Location was good, didn't breakfast
Cons:
The bed was noisy, plastic mattress cover was horrible, every time you moved it made noise..............husband ended up sleeping on the couch.
Based on 203 reviews
Vibe
10.0
Pool
10.0
Room
9.4
Comfort
9.3
Cleanliness
9.3
---
Pros:
Convenient and the staff was very friendly
Pros:
Easy to get to and it's location
Cons:
Not the cleanest by any means. Thought it was a bit overpriced.
Pros:
Rooms where clean and comfortable. Nice location. Friendly staff. Hot tub was nice. A little far from ski slopes for drive back at night but lower price for stay offsets
Cons:
Swimming pool needs to be a warmer for my likening
Pros:
Staff was extremely rude. We asked for extra sheets and they would not give us any.
Cons:
It wasn't the hotel but the guests. People need to understand that they need to treat a other hotel guests with respect. The people next to my room were in some type of deviate behavior for about 3 hours. I finally had to go to the desk at 2am. Sad
Pros:
Attentiveness of the staff.
Pros:
Hot tub, pool were great amenities. Front desk was very helpful and starbucks, grocery store, gas station and restaurants were very close by, within walking distance.
Cons:
Everything was great. For the price everything was expected.
Cons:
They have beautiful views and good location
Pros:
The location was great. The staff was very nice and helpful.
Cons:
The coffee selection in the room is terrible! It would be nice to stay in a hotel that offers a nice selection of teas and coffee. I waited until I arrived at the airport to get my morning coffee! I almost went to City Market that night to get coffee.
Pros:
Location was perfect..staff was awesome
FAQs when booking a hotel near Vail Eagle County airport
How much is a cheap hotel near Vail Eagle County airport?
How can I find hotels near Vail Eagle County airport?
Where to stay in Vail?
Our Heatmaps tool will help you find the perfect place to stay in Vail by showing you how close hotel options are to major activities
Accommodations
Airports in Vail