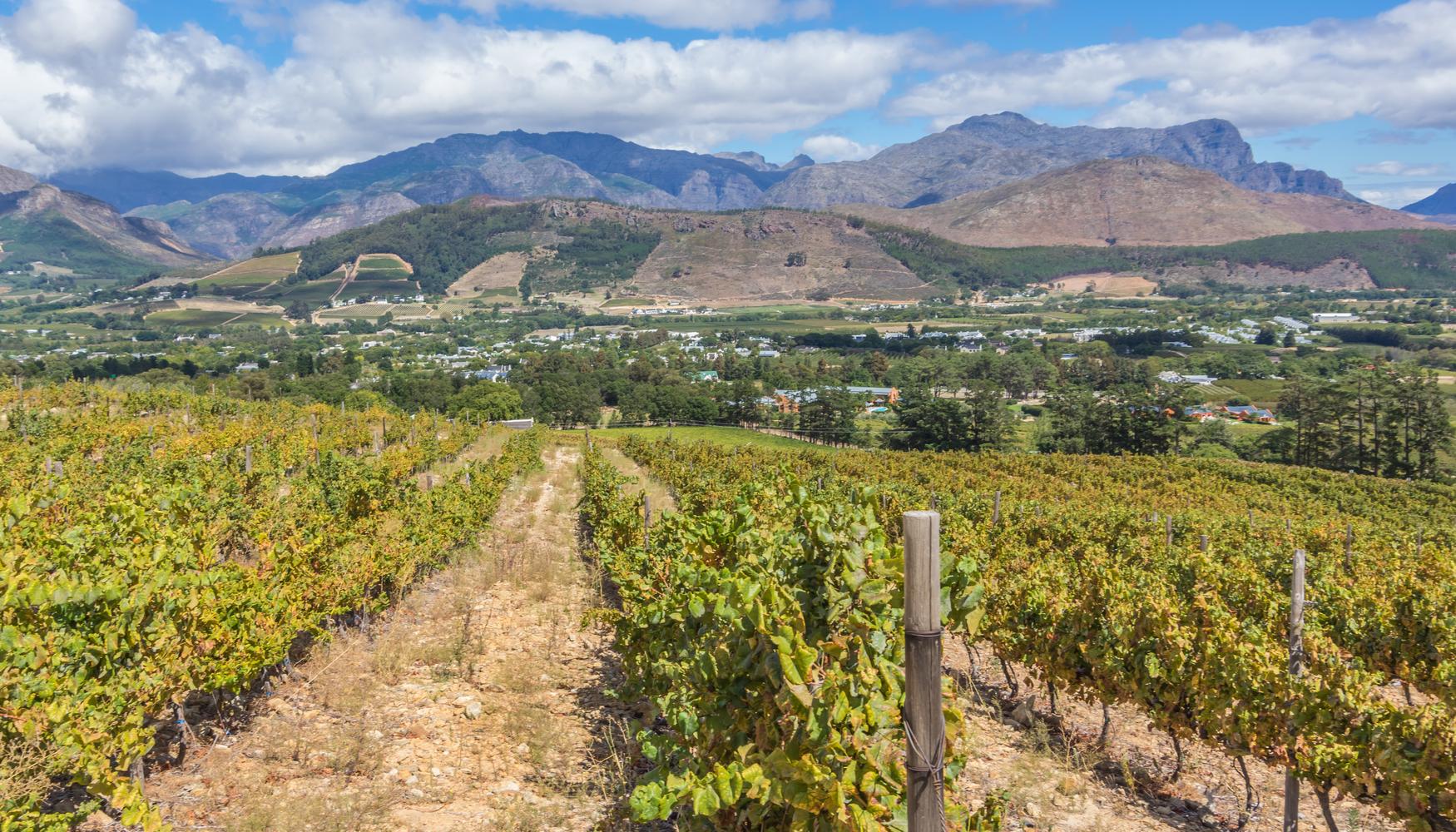 You're Going to Love Franschhoek
Franschhoek, a town on South Africa's Western Cape, is ripe with beautiful vineyards and Cape Dutch architecture. Sitting at the foot of the Mont Rochelle nature reserve, the town of 20,000 is South Africa's oldest settlement and interestingly one of the world's top culinary spots.
Whether you're looking to marvel at the French Huguenot construction, indulge in wine tasting, or hike the Drakenstein or Wemmershoek mountain ranges, Franschhoek is a must-see city on your South African journey.
Top 5 Reasons to Visit Franschhoek
1. Wine Culture
The vineyards in Franschhoek date back 300 years to when the Huguenots settled the town. You can sign up for one of the wine tours or hop on the Franschhoek Wine Tram, which stops at different vineyards where tourists can take part in a tasting, tour the cellars, or simply enjoy lunch.
2. Dutch Architecture
One of the highlights of Franschhoek is its spectacular Cape Dutch architecture, a traditional Afrikaner building style dating back to the 17th century. Cape Dutch homes are characterized by rounded gables, whitewashed walls, and thatched roofs.
3. Souvenir Shops
Franschhoek is a treasure hunter's paradise. Featuring African art, Kalahari ostrich shell jewelry, and even chocolate shops, Huguenot Road makes for an absorbing afternoon of shopping.
4. Fine Dining
World-renowned chefs, such as Lennard Marais, Scot Kirton, and James Gaag, all call Franschhoek home. Sample some of the local culinary wonders in one the town's top-notch restaurants.
5. Stunning Wildlife
The Mont Rochelle Nature Reserve, part of the UNESCO Cape Winelands Biosphere Reserve, features numerous hiking trails where you can observe klipspringers, dassies, baboons, and caracals, as well as sugarbirds and black eagles.
When to Visit Franschhoek
The best time to visit is April to May and September to October, when the weather is at its most pleasant.
How to Get to Franschhoek
Plane
The closest international airport is Cape Town International Airport (CPT), an hour outside of Franschhoek.
Car
From Cape Town International Airport, you can take Kuils River Rd/R300 and N1 to Franschhoek Rd/R45.
Bus
My Citi buses leave from Cape Town International Airport into Cape Town, where you can catch a Greyhound to Franschhoek at the Civic Center. Fares average R775.
Airports near Franschhoek
Airlines serving Franschhoek
Show more
Where to Stay in Franschhoek
La Residence offers majestic views of the mountains and includes villas with private pools and upscale suites. Babylonstoren is an old Cape Dutch farm with simple out-buildings and a reservoir onsite for guests.
Popular Neighborhoods in Franschhoek
Franschhoek Valley - with multiple vineyards to choose from, this area is ideal for wine connoisseurs or those looking to take in the panoramic views of the mountains.
Downtown - with its Cape Dutch architecture, quaint souvenir shops, and outstanding restaurant selection, downtown Franschhoek has something for everyone.
Stellenbosch - Stellenbosch, a nearby university town, is home to numerous vineyards and the Jonkershoek and Simonsberg nature reserves.
Where to stay in popular areas of Franschhoek
Most booked hotels in Franschhoek
How to Get Around Franschhoek
Taxi
Franschhoek offers a variety of private car, taxi, and three-wheel tuk-tuk transportation services. Rates average R10 with R16 per additional mile.
Car
Car rentals start at R284 per day.
The Cost of Living in Franschhoek
Shopping Streets
Huguenot Road is Franschhoek's main shopping street with a variety of shops, restaurants, and galleries.
Groceries and Other
The Woolworths Franschhoek supermarket is small but impressively stocked. The Tap and Cork features gourmet delicacies, local wines, and beauty products. The cost of living in Franschhoek is relatively affordable. A gallon of milk averages R38 and a loaf of bread is R8.
Where to Eat in Franschhoek
Pierneef à La Motte features international cuisine prepared by chef Michelle Theron. Specialties include Cape seafood with aniseed hutspot and venison loin with peaches and Cape snowbush. A 5-course dinner averages R595. At Grande Provence, chef Darren Badenhorst prepares seasonal dishes, including pork crackling-encased line fish and raclette and baby leek arancini. A three-course menu averages R450.