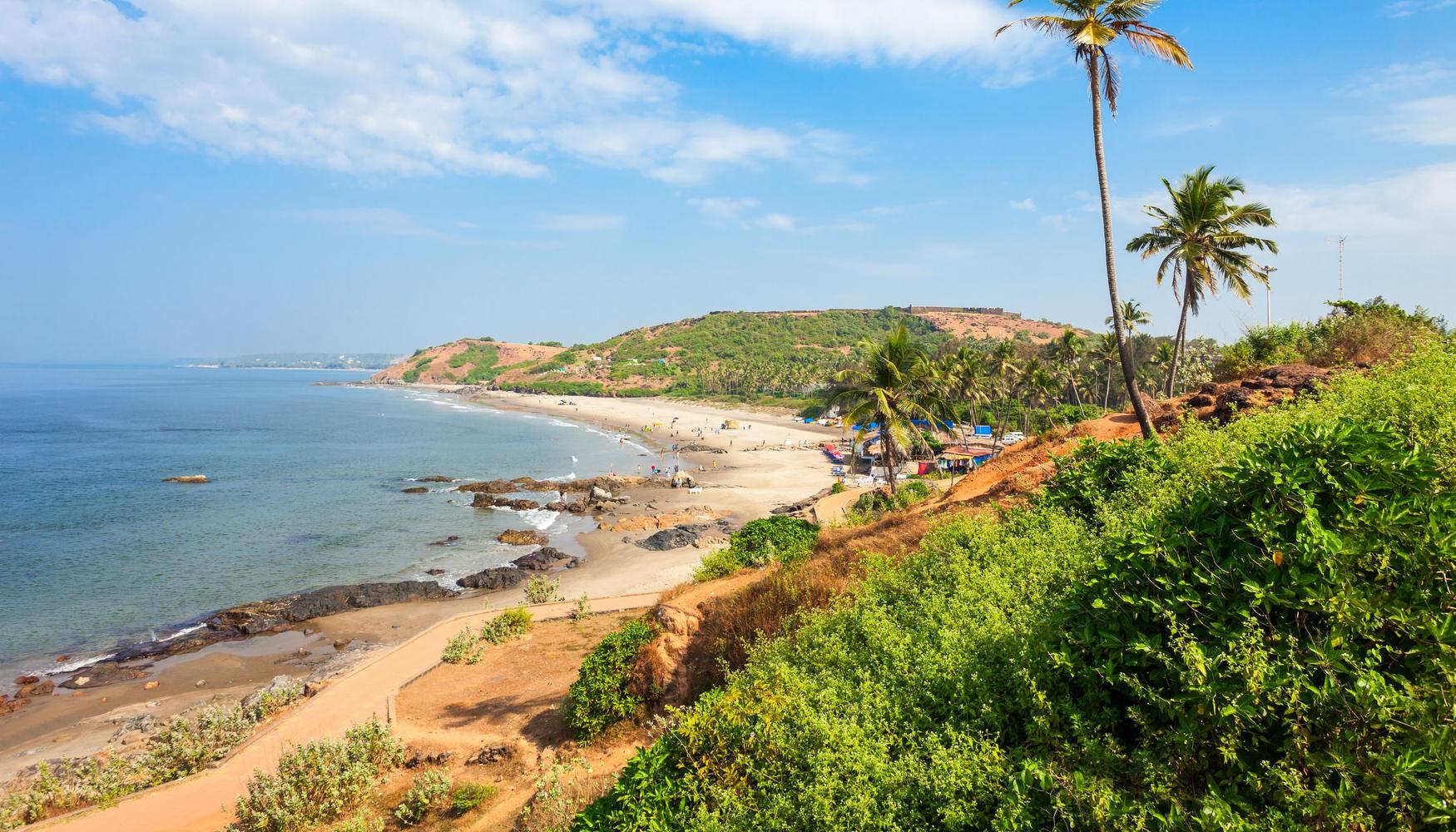 You're Going to Love Anjuna
One of the most popular beach destinations in India, Anjuna lies to the north of Calangute and Baga and west of Mapusa. The coastal village has been an enduring hub of hippie culture since the 1960s and is a great base from which to discover Goa.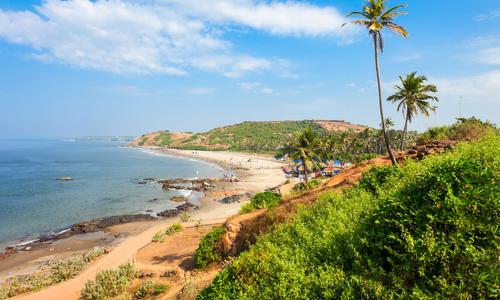 A little corner of paradise on the shores of western India, Anjuna is a compelling mix of people, cultures, lifestyles, cuisines, and unique attractions. It's one of those places where everyone is welcome and where the endless sunshine is an invitation to explore the spectacular beaches and the lush surrounding countryside.
Goa is India's smallest state, and it's also its most Westernized. Almost 500 years of Portuguese rule can be detected in everything from architecture to cuisine; the Anjuna region is dotted with churches and it's one of the best places to try local dishes.
Swimming, sailing and fishing, unforgettable sunsets, the weekly flea market, and friendly locals - there are so many adorable faces to Anjuna. In fact, some visitors love the place so much that they stay; sometimes for the entire season and sometimes forever.
Top 5 Reasons to Visit Anjuna
1. Those Beaches
Anjuna's famously narrow beach is 1.2 miles of soft, sugary sand that stretches from the flea market to the rocky outcrops by the fishing village. Dip your toes in the warm waters of the Arabian Sea or try seasonal water sports and activities like banana boats, jet skis, and parasailing. Alternatively, lounge in a cushion-filled beach shack with a good book as you watch beach life unfold before you.
2. The Friendly Party Scene
While the authorities have cracked down on impromptu beach raves, there are still lots of great parties and events in Anjuna. The beach is transformed with lights and decorations on a regular basis for organized psy-trance parties featuring top international DJs. Not a fan of electronic dance music? Head to Anjuna's bars and clubs and you'll find both local and international musicians performing on various nights of the week.
3. The Unique Way of Shopping
It's all about bargaining at the Anjuna Flea Market. You can find some great deals there as well as at other markets in the area like the Saturday Night Market in Arpora and the local market in Mupasa. Be prepared to negotiate.
4. It's a Great Place for a Relaxing Break
Spa treatments, ashtanga, hatha, vinyasa, and dynamic yoga, and Ayurveda and other holistic therapies are big news in Anjuna. There are plenty of options to choose from throughout the vacation season, and you'll find details on the noticeboards of friendly local cafes such as Artjuna.
5. It's a Base for Discovering Goa
Anjuna is the ideal choice for those who want a fabulous beach-side base with access to the sights and places that make Goa so special. Local and European architecture, Portuguese colonial forts and churches, sparkling waterfalls, traditional villages, spice plantations, and busy towns are within easy reach of Anjuna.
What to do in Anjuna
1. Bargain Hunt at the Anjuna Flea Market
The world-famous market takes place at the southern end of Anjuna beach each Wednesday. Expect sarongs, saris, clothing, hand-made jewelry, local arts and crafts, and much more. Practice negotiating prices before you go!
2. Unwind at Anjuna Beach...
Enjoy a swim in the incredibly salty Arabian Sea where floating is easy, relax with a fruity drink in a sheltered beach shack, or listen to beach musicians play in the amazing sunset - the beach is certain to be one of the many highlights of your stay.
3. ...And at the Other Beaches
It would be remiss of you to visit Anjuna without taking a little time out to discover some of Goa's other equally spectacular beaches. Try Baga and Calangute to the south of Anjuna or Vagator and Arambol to the north.
4. Historical Outings
There are reminders of Goa's Portuguese colonial past everywhere you look. Visit St. Michael's Church, which was built in honor of St. Michael in 1595, or explore headland ruins like Aguada Fort and Chapora Fort for dramatic panoramic views over the Arabian Sea.
5. Enjoy Watery Thrills at SplashDown Waterpark
Take the kids to the SplashDown Waterpark, where five pools and a range of slides and features will keep children busy for the day. A snack bar and shop mean that you won't have to leave the site for essentials.
A popular activity in Anjuna
Find activities
Top activities in Anjuna
Goa Street Food Tour
Duration: 2h
Goa Full-Day Private Tour
Duration: 8h
Goa: 5-Hour Coach/Taxi Guided Tour from Mormugao Harbor
Duration: 5h
Goa Off Shore: Churches and Spice Farm Tour
Duration: 6h
Panaji: Private Spice Plantation and Old Goa City Tour
Duration: 5h
When to Visit Anjuna
The summer season from November until February is the best time to visit Anjuna. However, it's also the busiest time of year. Why not visit in October or March when the worst monsoon rains are over? You'll enjoy lower prices in restaurants, hotels, and bars and less crowded public transport. If you don't like extreme heat, try to avoid May, which is the hottest month of the year and the most humid.
How to Get to Anjuna
Plane
There are international flights to Indian cities such as Mumbai and Hyderabad from major American and European cities. Once in India, it's easy to find connections to Vasco da Gama Airport in Dabolim, which is 26.3 miles from Anjuna. Take the Red Bus service from the airport for Rs. 150 or a taxi for around Rs. 1,200.
Train
India has an excellent rail network with connections to towns and cities in every region. The closest rail station is Tivim, and you can then complete the last 8.7 miles of your journey by local bus or taxi for around Rs. 450.
Car
If time isn't of the essence, you may prefer to drive to Anjuna. Several major roads lead to the city including the NH48 toll road and the NH66 from Mumbai. A typical journey takes around 11 to 12 hours.
Bus
Operators like Red Bus offer buses from Mumbai to Anjuna. Buses depart from Dadar Bus Stand for Anjuna Charrasta where passengers change to a local service for the last few miles to Anjuna. It's one of the cheapest ways to travel and a single ticket costs around Rs. 1,200.
Airlines serving Anjuna
Show more
Where to Stay in Anjuna
If you're on a budget, try economy accommodation like The Nest by Hostelogy, Chill Inn, or Paradise Guest House. Good family hotels include Hotel Casa Ahana, Spazio Leisure Resort, and the Tamarind Hotel. Boutique hotels like I Love Bell Bottoms, the Yuppi Hippi Hideout, and the IVY Anjuna combine quirky details with upmarket facilities and services. The beach is the best spot to spend time in, offering water sports, yoga classes, sunsets, and friendly bars and restaurants, while Anjuna Village to the east is the residential area and the hub of everyday life in Anjuna.
Where to stay in popular areas of Anjuna
Most booked hotels in Anjuna
How to Get Around Anjuna
Public Transportation
Local buses will take you to nearby towns like Vagator and Mupasa. However, although they are cheap, they only really cover major routes. City buses can be very crowded. However, they are cheap and a trip from the southern end of the beach to Anjuna Village is around Rs. 30.
Taxis
Taxis are readily available, but they are a more expensive option. Consider using a motorcycle taxi or auto rickshaw instead. Motorcycle taxis are available from Starco Junction, and short journeys cost about Rs. 100.
Car
The average cost of car hire is about Rs. 2,670 per day. You should note that the closest gas pump to Anjuna is near Vagatar. However, if you run out, some stores sell gas in liter bottles for around 60% more than the regular price.
The Cost of Living in Anjuna
Shopping
As well as the Anjuna Flea Market each Wednesday, shoppers can find all kinds of bargains at the beach shacks and stalls that have sprung up close to the shore. It's also well worth visiting Mackie's Saturday Nite Bazaar at Baga for t-shirts, crafts, and live music, and Ingos Saturday Night Market north of Siolim for a diverse range of goods including didgeridoos and Tibetan food.
Supermarkets and Food Stores
It's cheap to eat and drink in Anjuna and there are plenty of local stores and supermarkets to choose from such as Larry's Hub and Balaji Super Market. Expect to pay around Rs. 90 for a bottle of Kingfisher beer or Rs. 64.44 for a dozen eggs.
Where to Eat in Anjuna
Goan food is a real treat and it's influenced by both locals and settlers including the Portuguese and more recently, the European hippies. Goan Catholics favor vinegar, beef and pork while Konkan Hindu cookery makes good use of locally caught fish and coconut. Try balchão, a spicy dish based on meat or seafood; caldin, a tasty vegetable stew at trendier local restaurants; or sample spicy Goan sausage or cafreal, grilled chicken from the Norohona's Corner food truck at Anjuna Beach. Artjuna Cafe is a great place for fresh and healthy dishes, or you can enjoy a taste of home at Burger Factory. For special evenings, Oltremarino Italian Restaurant serves classic Italian in a chic setting. A simple lunch costs approximately Rs. 200, while an upmarket dinner for two with wine is around Rs. 2,700.
Other popular cities in Goa