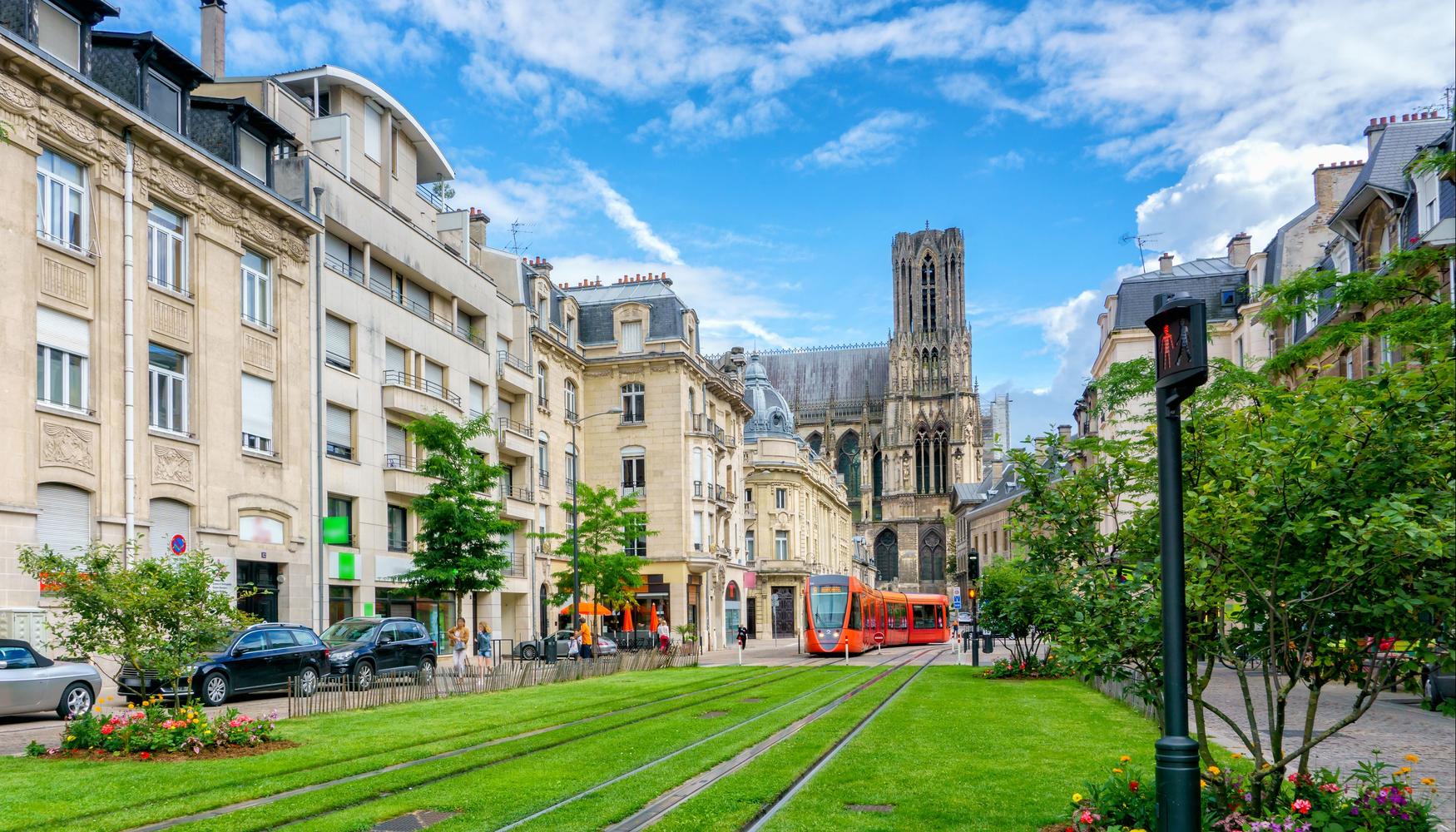 You're Going to Love Reims
Dominated by one of Europe's most beautiful Gothic cathedrals, Reims is a compact French jewel, offering atmospheric cafes, superb food, and some of the best Champagne you will ever taste.
Top 5 Reasons to Visit Reims
1. The Incredible Cathedral
The star of the show in Reims is the Cathedral of Notre-Dame de Reims, historically the place where French kings were crowned. Check out the Chagall stained glass windows, and soak up the serene, awe-inspiring atmosphere.
2. Champagne
Toast your vacation in style in the home of Veuve Clicquot or visit Champagne houses run by iconic names like Mumm or Taittinger.
3. Superb Museums
Reims is packed with museums, including the Musée des Beaux-Arts de Reims (with a fantastic collection of 19th-century French works) and the Museum of the Surrender.
4. Some of France's Best Restaurants
Accompany your Champagne with gourmet cuisine at acclaimed restaurants like the Art Deco La Brasserie du Boulingrin or up-and-coming seafood spots like Le Bocal.
5. Festivals Every Month
There's always something going on in Reims, from Christmas fairs to the Reims Vintage Car Show and May's magical Johan Festival, dedicated to medieval history.
When to Visit Reims
Reims has something to enjoy at all times of year, with museums and markets to enjoy whenever you visit. Why not pick a festival that interests you and schedule your trip then?
How to Get to Reims
Plane
For visitors from North America, the easiest option is to fly into Paris Charles De Gaulle Airport, before hopping on a high speed TGV train (30 minutes, tickets from EUR20).
Train
Reims has superb rail connections to Paris, and the journey can take as little as 40 minutes (from Paris Est station).
Car
From Paris, take the A4 straight to Reims. From Lille, take the A1 to Arras, then the A26.
Bus
Eurolines runs daily buses from Paris to Reims, which take just under 2 hours to reach their destination and cost around EUR10.
Airlines serving Reims
Show more
Where to Stay in Reims
Reims has some magnificent luxury hotels, including the Best Western Plus Hôtel de la Paix and the Grand Hôtel des Templiers.
Popular Neighborhoods in Reims
Centre-Ville - home to Reims' fabulous cathedral and most of the best restaurants, Centre-Ville is where most tourists start their exploration of Reims.
Coutures - just southeast of the city center, Coutures is a relaxed neighborhood where the main attraction is the engaging Automobile Museum.
Saint-Remi - Champagne central. Saint-Remi is the place to go to sample the latest masterpieces from Taittinger or Veuve Cliquot.
Where to stay in popular areas of Reims
Most booked hotels in Reims
How to Get Around Reims
Public Transportation
The buses in Reims are reliable and cheap, at just EUR1 per journey. You can also purchase 10 tickets for EUR8.60.
Taxi
You will need to book taxis in advance via the web, phone, or your concierge, and expect to pay a rate of around EUR2 per mile.
Car
Car rental options in Reims include Sixt and Europcar. Rates should be around EUR15 per day for smaller vehicles.
The Cost of Living in Reims
Shopping Streets
The best place to shop in Reims is Galeries Lafayette - the town's largest department store. There are also some wonderful artisanal stores, like the antiques market La Boutique and Lancel, heaven for those who love designer accessories.
Groceries and Other
Carrefour is the main supermarket in Reims, with branches all over the city. As an indication of prices, expect to pay around EUR3 for 12 eggs.
Where to Eat in Reims
Le Bocal is an exceptional seafood restaurant, Le Millénaire is a Michelin-starred traditional eatery, while Philippe Mille whips up gorgeous dishes in opulent surroundings at Les Crayères. Prices vary by establishment, but a good meal should cost around EUR20-40.
Other popular cities in Grand Est