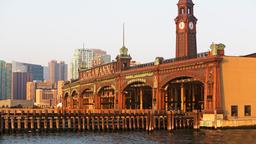 Hoboken car rentals
Search hundreds of travel sites at once for car rental deals in Hoboken
Hoboken, NJ, United States
Hoboken car rental Information
| | |
| --- | --- |
| Pick-up location | Hoboken |
| Rental locations | 3 |
Hoboken car rental reviews and directory
Avis

╳
Avis reviews
Car rental locations
Avis
Locations in Hoboken
1450 Bloomfield Street
+1 201 876 2871
| | |
| --- | --- |
| Monday | 07:30 - 19:00 |
| Tuesday | 07:30 - 19:00 |
| Wednesday | 07:30 - 19:00 |
| Thursday | 07:30 - 19:00 |
| Friday | 07:30 - 19:00 |
| Saturday | 08:00 - 16:00 |
| Sunday | 08:00 - 18:00 |
Terrible customer service and no overnight drop
Pros:
The car was fine and clean, no problems there.
Cons:
The customer service was awful all around. The staff was unnecessary cheeky and curt during very interaction. We would have returned the car half a day early, but the staff at the Hoboken location gruffly told us that they didn't have an overnight drop. We had to pay to park the car in a different garage overnight and make an extra trip to return it. This return was delayed because I got sick. I tried to call the Hoboken location to inform them of the situation, but they consistently put me on hold and then would hang up on me after ten minutes. This was the absolute worst customer service and car rental experience I have ever had, and I will not be returning.
8.8 Excellent
18 Oct. 2015
Pros:
The vehicle was perfect for my needs and completed 2000 miles in 10 days faultlessly.
Cons:
Difficulty in ensuring I received model I had requested.
2.0 Mediocre
19 Oct. 2015
Horrible experience; Unapologetically unprofession
Cons:
They overbooked cars so bad that when I came to pick up my reserved car two hours after my reservation time I was told I would have to wait two more hours to get the car that I had reserved.
Terrible location
Cons:
There were no cars and I waited 1.5 hours to get one. About a dozen people were also waiting.
2.0 Mediocre
19 Oct. 2015
Cons:
After I confirmed my reservation with Avis, I went to pick up my rental car only to be told that my car wasn't there and it would be at least an hour to two hours before I could take the rental car, which resulted in me being unable to attend a wedding. I called Avis Customer Service where, after I told them about my situation, I was told, "What do you want me to do about it?"
9.6 Excellent
30 Nov. 2015
Pros:
We got an Intermediate car for the same price as a Compact. The car we were given was clean, performed well, and got excellent gas mileage.
Cons:
Rental was more expensive than what we typically pay given the Thanksgiving holiday.
These guys don't know anything about there existan
Pros:
all, but the amount debited out of my account, and the account they debited it from
Cons:
I was asked for a credit card (and I only have an UK one), but was told that the actual payment was to be debited out of my US debit card, thing that never happened. So I ended up paying in GPB, at a conversion rate that nobody would like. Plus, instead of 57.51 USD, I was charged 325.01 USD. Can anyone explain where the other 267.5 USD come from? I have taken pictures with the car when I left it, with no damage and the tank full, as I have picked it up.
Could not reach anyone helpful at corporate
Pros:
The franchise owner himself called me back and made sure everything would go well with the actual return.
Cons:
I called the rental office to report a minor collision, they transferred me to someone (I later learned) from Fleet Management who was disgustingly rude, obnoxious and unprofessional. The registration on the car was not updated and the registration papers were not in the vehicle. I had a very difficult time with the police officer who took the police report of the collision because they could not verify a valid registration - all of these are Fleet Management problems, but the person from Fleet Management would not even give me his name! I then tried calling corporate and was bounced around 10 times before an Avis Security officer finally got on the phone and VERBALLY confirmed the validity of the registration - by then the police officers involved decided to be reasonable (they believed that I was not willfully driving an out of date registered vehicle that I had rented around). If the police had decided to be unreasonable (which was their right) they could have towed the vehicle and left me standing out on the street. Avis service was abysmal on this rental - I strongly urge anyone renting an Avis vehicle to personally make sure the registration papers are present and in order before taking the vehicle (I have rented thousands of cars in my life and have never done this before).
10.0 Excellent
8 Mar. 2016
Pros:
I want to give a shout out to the guys who work at the Avis desk, they were very pleasant and displayed great customer service.
8.4 Excellent
26 Mar. 2016
Pros:
Fast, efficient rental. Very friendly and helpful staff. All fees discussed up front so no surprises at drop off. Drop off was fast and easy.
Cons:
Car itself was hard to drive; very limited visibility in rear and blind spots. This is Ford's fault, not Avis' but does reflect their choice in cars. Rental counter was also incredibly difficult to find, as it was on a completely different street than the address listed. No signs (at the listed address) to direct me to the rental counter. Took 10 mins and a phone call to even locate it.
Enterprise

╳
Enterprise reviews
Car rental locations
Enterprise
Locations in Hoboken
112-134 River St
+1 201 963 7123
| | |
| --- | --- |
| Monday | 07:30 - 18:00 |
| Tuesday | 08:00 - 17:00 |
| Wednesday | 08:00 - 17:00 |
| Thursday | 07:30 - 18:00 |
| Friday | 07:30 - 19:00 |
| Saturday | 08:30 - 13:00 |
| Sunday | 16:00 - 20:00 |
10.0 Excellent
11 Aug. 2016
Cons:
I felt pressured to purchase supplemental insurance at pick up. But they were very patient with me calling my insurance company and credit card company to find out what their coverages were. I denied the coverage and all was fine.
Cons:
Car was not ready at scheduled pick-up time.
9.6 Excellent
1 Oct. 2016
Great experience with value for money
Pros:
We were blocked from the Hoboken accident and couldn't get to the original spot to get our car but then we found another one to pick up with a upgraded model. Very nice assistance and nice driving experience with a new car at about 3000 miles ride history.
Pros:
The experience of selling insurance was confusing. We purchased it only to find out later that it was unnecessary. We already had the coverage through my credit card. a better explanation of the coverage would be ideal. The car itself was terrible. zero pickup and it was dirty. (Had someone else's takeout food under the seat.)
Just okay
Pros:
They call you the day before to collect info to speed up your check out process.
Cons:
The car wasn't clean when I picked it up and it seemed that it hadn't been maintained. Windshield wipers obviously needed to be replaced.
10.0 Excellent
12 Dec. 2016
Perfection
Pros:
This was a great experience from top to bottom and I would undoubtedly rent from them again. They took such great care of us and were even kind enough to offer a free upgrade!!! Really made our weekend an enjoyable time!
10.0 Excellent
9 Jun. 2017
Pros:
They were very accommodating with price change as did not charge the correct amount at first.
Hertz

╳
Hertz reviews
Car rental locations
Hertz
Locations in Hoboken
1404 Willow Avenue
+1 201 653 6920
| | |
| --- | --- |
| Monday | 07:30 - 18:00 |
| Tuesday | 07:30 - 18:00 |
| Wednesday | 07:30 - 18:00 |
| Thursday | 07:30 - 18:00 |
| Friday | 07:30 - 18:00 |
| Saturday | 08:00 - 12:00 |
| Sunday | |
8.0 Excellent
15 Nov. 2015
Very good but could use tech improvement
Pros:
Bluetooth connectivity to phone. Steering wheel controls. Speedy service. Smooth ride.
Cons:
supplied GPS system touch screen needed recalibration: eg to select an R one had to tap the S; once connected to Bluetooth phone, the voice commands of the car could not find certain numbers; there should be some kind of drop off system even when the office is closed on the weekend.
2.0 Mediocre
27 Dec. 2017
Couldn't give me a car at the time of my reservation
Cons:
I rented a car to go to my best friend's bridal fitting. When I went to pick up the car, I was told there were none available and I would have to wait at least an hour an a half. The on-site manager was completely unsympathetic. When I asked why there were a number of cars in the lot available, he said he couldn't give me any of those because they were all reserved (as my car was also supposed to be). He gave me the phone number for another manager, who was better, but the only solution was for me to drive to another Hertz location 20 minutes away to pick up a car. By the time I finally got a car, it was an hour and 20 minutes after my reservation time and I was 20 minutes further away from where I need to go, causing me to miss the appointment. I was also promised compensation for all of the issues, but have yet to receive anything and paid full price for my reservation. The car itself was also very dirty inside when I got it.
2.0 Mediocre
24 Apr. 2019
Pros:
I didn't like anything because I never received any service or a vehicle. I was there on time maybe even 30 min before pick up but never got a vehicle I was told to wait atleast one hour and added to the wait list. So I went to eat by the time I got back they were closed for the day.
Cons:
Atleast notified the customer of anything.
41 travellers who rented a car in Hoboken gave the car agency they used an average rating of 6.9
Car rental locations in or near Hoboken
Good to know
| | |
| --- | --- |
| Most popular car type | Compact |
When to book a rental car in Hoboken
Average daily price per month
Rental car prices as pick-up date approaches
Top tips for renting a car in Hoboken
Book your rental car in Hoboken at least 1 week before your trip in order to get a below-average price
Compact rental cars in Hoboken are around 29% cheaper than other car types, on average
FAQs about renting a car in Hoboken
What is the most popular rental car in Hoboken?
Compact (Nissan Versa or similar) is the most frequently booked rental car type in Hoboken.
What is the best rental car company in Hoboken?
Based on ratings and reviews from real users on KAYAK, the best car rental companies in Hoboken are Enterprise (8.5, 12834 reviews), Avis (7.6, 2298 reviews), and Hertz (7.4, 3848 reviews).
Which car rental companies are at the airport: John F Kennedy Intl airport (JFK)?
Car rental companies onsite at John F Kennedy Intl airport include Thrifty, Hertz, Dollar and Advantage.
How can I find car rentals near me in Hoboken?
Take a look at our extensive car rental location map to find the best rental cars near you.
How much does a Compact car rental cost in Hoboken?
A Compact car rental in Hoboken costs C$ 80 per day, on average.
How much does a Economy car rental cost in Hoboken?
A Economy car rental in Hoboken costs C$ 113 per day, on average.