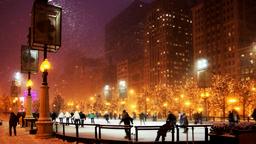 Let KAYAK do the searching
Most popular 5-star hotels in Chicago
Top tips for finding 5-star hotels in Chicago
If you're looking for premium luxury hotels in Chicago, the Waldorf Astoria is a European-style haven. The lush gardens and secluded courtyard will make you feel like one of the elite. Located in the affluent Gold Coast neighborhood, it's only a block away from the high-end shopping spots along Oak and Rush Street, known as the Magnificent Mile.
The award-winning Four Seasons Hotel has one of the best views of Lake Michigan. This five-star accommodation is great for families. Children can enjoy the Kids Club on the 32nd floor, complete with video games, crafts, toys and more to keep them entertained. To enjoy the hotel pool, there's a range of pool toys and floaties. Guests may even order a sundae, made right at your room door.
Along the Chicago River, The Langham is considered the top luxury hotel in Chicago. Housing the only five-star spa in the city, the Chuan Spa will leave you feeling relaxed and rejuvenated. Choose from a selection of Chinese-inspired treatments, including acupuncture, cupping, Moxibustion, traditional massage treatments or signature facials. Once finished, relax by the 67-foot swimming pool or enjoy the hydrotherapy Jacuzzi.
For those who enjoy a good rooftop swim, the stylish rooftop pool and lounge area at the Viceroy has views of the city's architecture as well as Lake Michigan. Be served while you lounge at the Deveraux, home to craft cocktails and seasonal bites. Alternatively, check out the art-deco design at the Michelin-starred BOKA restaurant downstairs, open for breakfast, lunch, and dinner.