You're Going to Love Hoorn
During the 16th century, the Dutch port of Hoorn was the center of world trade, knitting together continents with its enormous merchant fleet. Nowadays, the medieval port is still there, along with plenty of museums, but it's been joined by superb restaurants, markets, and cultural attractions.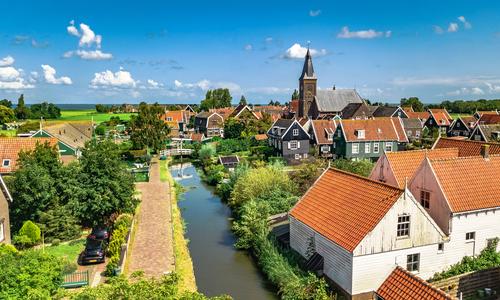 Top 5 Reasons to Visit Hoorn
1. It's a Fascinating Historic Port
Shaped like a horn (strangely enough), Hoorn's port is a beautiful sight, and it's full of historical interest. See landmarks like the Hoofdtoren tower and the Oosterkerk, and wander the remarkably preserved 16th-century streets.
2. There Are Lots of Excellent Museums
Superb museums in Hoorn include the artistically themed Westfries Museum, Halve Maen (a reconstructed Dutch East India Company ship), and the quirkier Museum of the 20th Century.
3. The Food and Drink Is Superb
From the irresistible cheese market held every Thursday to exceptional restaurants like Restaurant d'Oude Waegh and Marque, Hoorn is one of the Netherlands' finest dining destinations.
4. Take a Historical Steam Train Ride
Hoorn also allows you to take a journey back into the 19th century with the Historische Driehoek, which runs a few miles northwards to the almost as enchanting harbor of Medemblik.
5. There Are Plenty of Nearby Attractions
With Amsterdam an hour to the south and other beautiful West Friesian cities like Volendam and Alkmaar to visit, Hoorn's hinterland is a wonderful place to explore.
When to Visit Hoorn
Summer is definitely the time to visit. Not only will the sights be at their best, but Hoorn hosts lively music events like Outdoor Stereo and Live in Hoorn in July and August.
How to Get to Hoorn
Plane
Amsterdam Schiphol (AMS) is around 40 miles south of Hoorn. From there, you can take a direct train (44 minutes, EUR12-20).
Train
Trains run into Hoorn from Amsterdam Centraal, taking just over an hour and costing around EUR15.
Car
From Amsterdam, take the A10 to Zaandam, then the E22 straight into Hoorn.
Bus
EBS runs regular buses from Amsterdam to Hoorn, which leave every 20 minutes from Amsterdam Centraal and cost EUR10.
Airlines serving Hoorn
Show more
Where to Stay in Hoorn
Superb accommodation providers in Hoorn include the cozy Hotel Petit Nord, which has an Asian restaurant, and the Hotel de Magneet, which has exceptional harbor views.
Popular Neighborhoods in Hoorn
Binnenstad - a dense network of squares and streets, Binnenstad dates back to the 14th century and contains great attractions like the Westfries Museum.
Oostereiland - a tiny islet just off the shore, Oostereiland hosts the Museum of the 20th Century, a great cinema, and some of the best views of the old town.
Kersenboogerd - slightly to the northeast of the city center, Kersenboogerd hosts some excellent restaurants, including Brasserie Marmaris, and has its own station, making it easy to reach central attractions.
Where to stay in popular areas of Hoorn
Most booked hotels in Hoorn
How to Get Around Hoorn
Public Transportation
Public buses run to most areas of Hoorn and cost a couple of Euros per journey. There are also a couple of train stations in outlying districts, and cycle rental places are everywhere.
Taxi
Taxis in Hoorn charge EUR4.50 as a flag drop, followed by around EUR3 per mile after that.
Car
Car rental options include Bo-Rent and Welkers, where packages start at around EUR10 per day.
The Cost of Living in Hoorn
Shopping Streets
The city center is the place to shop, whether you head to the Saturday market or stroll along Grote Noord, checking out stores like Costes or Hunkemöller.
Groceries and Other
Supermarkets in the city include Vogel and DEEN, where 12 eggs will cost around EUR2.50.
Where to Eat in Hoorn
Good food is easy to come by in Hoorn. Standout eateries include Marque, which specializes in European haute cuisine; Fa. D. Wormsbecher en Zoon, a seafood takeaway place; and Brasserie Marmaris, an excellent Turkish restaurant. Prices range from EUR20 to EUR40 per head.