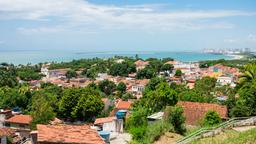 Petrolina car rentals
Search hundreds of travel sites at once for car rental deals in Petrolina
Petrolina car rental Information
| | |
| --- | --- |
| Pick-up location | Petrolina |
| Rental locations | 18 |
| Airport locations | 10 |
Petrolina car rental reviews and directory
Avis

Avis
Locations in Petrolina
Rua BR 235, KM 11
+55 873 863 1882
Monday
00:00 - 05:00
10:00 - 18:00
23:00 - 23:59
Tuesday
00:00 - 05:00
10:00 - 18:00
23:00 - 23:59
Wednesday
00:00 - 05:00
10:00 - 18:00
23:00 - 23:59
Thursday
00:00 - 05:00
10:00 - 18:00
23:00 - 23:59
Friday
00:00 - 05:00
10:00 - 18:00
23:00 - 23:59
Saturday
00:00 - 05:00
10:00 - 18:00
Sunday
10:00 - 18:00
23:00 - 23:59
Rua Honorato Viana, 1000
+55 873 866 7161
Monday
08:00 - 11:30
14:00 - 17:30
Tuesday
08:00 - 11:30
14:00 - 17:30
Wednesday
08:00 - 11:30
14:00 - 17:30
Thursday
08:00 - 11:30
14:00 - 17:30
Friday
08:00 - 11:30
14:00 - 17:30
Saturday
08:00 - 11:30
Sunday
Budget

Budget
Locations in Petrolina
Rua Br 235, Km 11
+55 873 863 1882
Monday
00:00 - 05:00
10:00 - 18:00
23:00 - 23:59
Tuesday
00:00 - 05:00
10:00 - 18:00
23:00 - 23:59
Wednesday
00:00 - 05:00
10:00 - 18:00
23:00 - 23:59
Thursday
00:00 - 05:00
10:00 - 18:00
23:00 - 23:59
Friday
00:00 - 05:00
10:00 - 18:00
23:00 - 23:59
Saturday
00:00 - 05:00
10:00 - 18:00
Sunday
10:00 - 18:00
23:00 - 23:59
Rua Honorato Viana, 1000
+55 873 866 7161
Monday
08:00 - 11:30
14:00 - 17:30
Tuesday
08:00 - 11:30
14:00 - 17:30
Wednesday
08:00 - 11:30
14:00 - 17:30
Thursday
08:00 - 11:30
14:00 - 17:30
Friday
08:00 - 11:30
14:00 - 17:30
Saturday
08:00 - 11:30
Sunday
Hertz

Hertz
Locations in Petrolina
Ave Honorato Viana 309 Predio
+55 873 862 2788
| | |
| --- | --- |
| Monday | 08:00 - 18:00 |
| Tuesday | 08:00 - 18:00 |
| Wednesday | 08:00 - 18:00 |
| Thursday | 08:00 - 18:00 |
| Friday | 08:00 - 18:00 |
| Saturday | 08:00 - 12:00 |
| Sunday | |
Box 07, Petrolina Ap
+55 873 863 1010
Monday
00:00 - 02:30
04:00 - 05:30
Tuesday
00:00 - 02:30
04:00 - 05:30
Wednesday
00:00 - 02:30
04:00 - 05:30
Thursday
00:00 - 02:30
04:00 - 05:30
Friday
00:00 - 02:30
04:00 - 05:30
Saturday
00:00 - 02:30
04:00 - 05:30
Sunday
15:00 - 16:30
23:30 - 23:59
Localiza

Localiza
Locations in Petrolina
Avenida Honorato Viana, 309
+55 873 863 1010
Internacional De Petrolina 235 Aero
MOVIDA

MOVIDA
Locations in Petrolina
Avenida Avenida Deputado Ulisses Guimarães km 10,00
Avenida Coronel Antônio Honorato Viana 89
+55 873 862 5470
Yes Rent A Car

Yes Rent A Car
Locations in Petrolina
Aeroporto
+55 878 821 3003
Rua Francisco Bosco Reis, 127
+55 873 861 2882
Alamo

Alamo
Locations in Petrolina
Av Doutor Ulisses Guimaraes
+55 873 201 8352
| | |
| --- | --- |
| Monday | 08:00 - 18:00 |
| Tuesday | 08:00 - 18:00 |
| Wednesday | 08:00 - 18:00 |
| Thursday | 08:00 - 18:00 |
| Friday | 08:00 - 18:00 |
| Saturday | 08:00 - 12:00 |
| Sunday | 00:00 - 00:00 |
Europcar

Europcar
Locations in Petrolina
Aeroporto Internacional De
+55 873 861 5121
National

National
Locations in Petrolina
Av Doutor Ulisses Guimaraes
+55 873 201 8352
| | |
| --- | --- |
| Monday | 08:00 - 18:00 |
| Tuesday | 08:00 - 18:00 |
| Wednesday | 08:00 - 18:00 |
| Thursday | 08:00 - 18:00 |
| Friday | 08:00 - 18:00 |
| Saturday | 08:00 - 12:00 |
| Sunday | 00:00 - 00:00 |
Sixt

Sixt
Locations in Petrolina
Rodovia BR 235, Km 11
+55 112 377 8686
Sunnycars

Sunnycars
Locations in Petrolina
Unidas

Unidas
Locations in Petrolina
Rua Arcoverde, 289
+55 873 861 1748
Car rental locations in or near Petrolina
When to book a rental car in Petrolina
Average daily price per month
Rental car prices as pick-up date approaches
Top tips for renting a car in Petrolina
Book your rental car in Petrolina at least 6 weeks before your trip in order to get a below-average price
FAQs about renting a car in Petrolina
What is the best rental car company in Petrolina?
Based on ratings and reviews from real users on KAYAK, the best car rental companies in Petrolina are Avis (7.6, 2243 reviews), Budget (7.6, 2 reviews), and Hertz (7.0, 4 reviews).
How can I find car rentals near me in Petrolina?
Take a look at our extensive car rental location map to find the best rental cars near you.