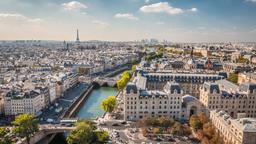 Let KAYAK do the searching
Most popular budget hotels in Paris
Top tips for finding budget hotels in Paris
If you are searching for hotels in Paris that offer cheap accommodation and good transport links, stay at St Christopher's Paris Canal hostel. Located 1.8 mile's walk from Gare du Nord, this lively hostel is only 0.2 mi from the Crimée metro station. Featuring bright dormitories with individual bunks that have individual lockers, you can opt for private or shared bathrooms, in addition to female-only dorms or private guest rooms. The breakfast buffet is free, and there is a common area along with a waterfront terrace. Those who love to socialize will not need to venture far, as the hostel is home to a nightclub in the basement.
For family-friendly and affordable hotels in Paris, choose the ibis Budget Paris Porte d'Italie Ouest. The casual two-star hotel in Le Kremlin Bicetre provides comfortable rooms designed for up to three people, with bathrooms included¬—perfect for families traveling on a budget. Onsite facilities include a private parking garage beneath the hotel, an all-you-can-eat breakfast, and a snack vending machine, all for an affordable additional charge.
Novotel Suites Paris Nord 18ème offers luxury accommodation for guests on a budget. The four-star all-suite hotel is situated northeast of the city and offers guests a modern environment and modish facilities. The spacious suites, which can accommodate up to four guests, feature modern amenities like a Nespresso machine and complimentary video on demand. Other facilities include a 24h restaurant, cocktail bar, and a fitness center. This budget hotel also helps families save money, as children under 15 stay for free.