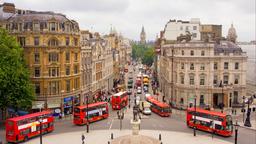 London Budget Hotels
Search hundreds of travel sites at once for budget hotels in London
Most popular budget hotels in London
Top tips for finding budget hotels in London
When you need an affordable place to stay in London, Smart Hyde Park Inn offers a great central location for a bargain price. Designed for backpackers, this hotel offers simple and safe rooms with secure lockers and free Wi-Fi, as well as a community kitchen. There is also an on-site laundry room and 24h reception.
If you're looking for quirky hotels in London with a cheap price tag, book a night at The Pavilion. This three-star hotel in Westminster is eclectically furnished, with each guest room themed uniquely: Imagine floral wallpaper, painted ceilings, and sumptuous curtains. The bright yet kitsch décor often welcomes fashion royalty and celebrities, so you are sure to be in for an exciting stay.
For a piece of the highlife at a fraction of the price, book a stay at Grange Langham Court Hotel in the prestigious Fitzrovia area. You will be greeted by an ornate black-and-white tiled fresco, and you will stay in light-ambience, modern rooms that feature granite and luxurious marble en-suite bathrooms with high-end toiletries. You will get value for money at this four-star hotel, as you enjoy their sophisticated French restaurant, which is the cheap and perfect place to dine and relax in the stylish lounge bar.
If you prefer the contemporary and are aux fait with all things high-tech, then check into Hub by Premier Inn London Spitalfields. As one of the budget hotels in London, Hub offers comfort along with state-of-the-art technology to ensure you have a good stay. You can control the features in your room, like dimming the lights, figuring out the nearest attractions, or even booking dinner. The rooms are compact yet well designed with ample workspace, ideal for business travelers. This is a high end experience but with a cheap price.